Travel Florida Ideas for You!
Travel Florida. There's lots of things to do in Florida! If you're thinking about taking a Florida vacation, you'll need to decide which of the Florida beaches to choose, attractions in Florida to visit, the best time of year for great Florida weather... It can be overwhelming, as there's SO MANY options for Florida vacations!

Florida travel is at it's peak from about December until April. The weather in Florida is at it's best during these months.... nice and dry, lots of sunshine hours, and warm. Florida tourist attractions and Florida beach vacation destinations, however, tend to be more crowded during this 'high season', too. Long weekends, Christmas, and Thanksgiving are especially busy and crowded times to travel in Florida as well.

Florida hotel rates increase their rates too,in the high season, although great deals can be had if you shop around for discounts. 'Low season' hotel rates offer some fantastic deep discounts, as do many restaurants and Florida attractions.
Generally speaking, winter is the prime month for South Florida vacations, while the spring and fall months are superb for Florida holidays in the more northern areas of Florida. BUT, remember that the weather is changing world-wide. Florida maximum temperatures have increased and the minimum temperatures have decreased, so keep that in mind when making your travel Florida plans.

Best Areas to Visit in Florida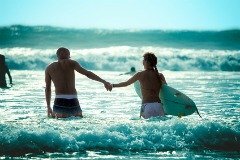 Florida's best feature is the awesome variety of things to do and see! If you love the beach scene, dig 'snorkeling' and scuba diving, crave an exciting, outdoor adventure in the Everglades, long to 'play the ponies' or spin the roulette wheel and take in a little Florida gambling, or dream about Disney, a Florida vacation is the answer!

There's something for everyone in Florida!

A Florida car rental is a definite must, if you want to see and do many of the cool things to do where you're staying in Florida. If you want to take in a few days of Disney on a family vacation, but can't bear the thoughts of spending your entire Florida vacation with Mickey, you can easily stay at Disney for a few days, then spend the rest of your time at one of the Florida beaches on either the east or west coast, either being only an hour or two drive away.


Choose an area that offers the activities you like best. Orlando for families and 'Disney' junkies, Key West is great for couples or families, and for divers and snorkelers, Panhandle beaches attract the Florida Spring Break crowd, Cocoa Beach is for families and surfer dudes, the Everglades call out to the 'outdoorsy types'.......

..... there's a Florida beach vacation spot in Florida, just waiting for you!

Need more information? Here's more articles to help with your travel Florida plans!
Return from Travel Florida to Florida Vacation Ideas

Return from Travel Florida to Naples Florida Home Page