Florida Gulf Coast Beaches:
A Beach for Each!
Of all Florida Beaches, the Florida Gulf Coast Beaches have the widest variety of beaches in the state! You'll be sure to find your perfect beach in Florida!

Florida's Gulf Coast beaches boast quite a wide range of beaches.
The west coast beaches of Florida have been 'kissed by the gods' and blessed with the most luscious soft, white sugary sand beaches anywhere!
The beach sand of the beaches on the Gulf Coast feel absolutely wonderful on the feet.

This top quality sand makes for an extraordinary playground for sand castle builders, sun-worshippers, people watchers, hikers, walkers, campers and those who just wish to bask in the sheer delight of these perfect, pristine, soft sand beaches!
Many of the beaches on Florida's Gulf Coast are natural, clean beaches and not crowded.
This is one of the best things to note when choosing one of the Florida Beaches for your vacation in Florida. Yes, the beaches have some peak times, and some busier days, but they are far less crowded on their busiest day in comparison with some of the East Coast Beaches of Florida on their quietest days!



2 Important Notes
about the Florida Gulf Coast Beaches




I've noticed prices tend to be just a 'tad higher' at the Gulf Coast Beaches, due to the fact that these beaches are more desirable because they usually are not as crowded. I'm willing to pay 'extra' to avoid the masses!


What are the Florida Gulf Coast Beaches Best Known For?
The beaches of the Gulf Coast are best known for several activities, which makes this coast very desirable for a beach vacation in Florida.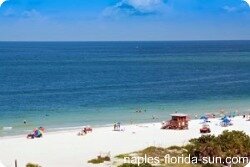 Parties. Head for Fort Myers Beach! This very 'hot' party beach is popular for Spring Break Party kids who really know how to have fun! There are lots of hotels and restaurants which line the beach area. There's a handful of beach bars that even serve drinks on Fort Myers Beach!
Romance. Sanibel Island is a more remote area, focused on nature preservation, so several of their beaches are more natural and rustic. There's several secluded spots for picnics as well as an array of fantastic very romantic resorts in Sanibel, too. Lover's Key State Park near Ft Myers Beach, is also a romantic, more private spot. The Naples beaches have lots of opportunities for quiet picnic lunches, and spots to enjoy the wondrous west coast of Florida sunsets!
Family Friendly. Although Ft Myers Beach is a party beach, it is also known for being one of the safest beaches in the world, due to it's gentle surf and slopes, and shallow waters. Good for vacationing with young children at non-Spring Break Florida times!

Manatee County Public Beach is a super family friendly Florida beach too. This beach also boasts calm, shallow waters, has stationed life-guards, picnic facilities, food vendors and restrooms.

Water Sports. The beaches of Naples and Fort Myers beach area are both popular for water sports. There's lots of beach rental vendors with wave runners, canoes, kayaks and boats for hours and hours of fun on the water!

There's good opportunities for snorkeling on the Florida Gulf Coast, for those who don't wish to make the journey all the way to Key West! Crescent Beach at Siesta Key is a great little spot to do some snorkeling. It's not well set up for conveniences, though. Parking is a pain and there's no rentals for equipment, so be sure to take your own gear along.

Camping. There's a few places for camping on the Florida Gulf Coast Beaches. Fort Desoto near St Pete Beach, has a really decent camping area with good clean facilities available. If there's children in your group, take note of the various beach areas that don't allow swimming, due to the strong currents.

Cayo Costa State Park, located on Lacosta Island, has some stellar spots for camping, and is thus a very popular camping area. The downside of this Florida campgrounds, is that it can only be reached by boat. The area is gorgeous, but not a developed camping area. When you camp at Cayo Costa, be sure to take everything you'll need, as there's nothing there except you and nature!
The Florida Gulf Coast Beaches have some of the finest beaches in the U.S. and
top beaches in the world
!
Folks from as far away as India, Asia, and every state in the union,
and various other parts of the world,
choose the beaches of the Gulf Coast of Florida
for their perfect beach vacation destination!
And a perfect choice it is!


Have A Great Story About This Topic?
Do you have a great story about this? Share it!
Florida Gulf Coast Beaches Reviews
Click below to see contributions from other visitors to this page...

Related Articles