Mote Aquarium: A Fantastic Florida Eco-Destination!
Mote Aquarium in Sarasota Florida, is a fantastic educational and entertaining Florida attraction for the whole family. One of the top Florida tourist attractions!


This eco-destination attraction in Florida, is about 88 miles (142 km), north of Naples FL, in Sarasota.
If you're looking for things to do in Naples or the surrounding area, this excursion would be less than a 2 hour drive from Naples, one way.

A visit to Mote, is well worth the extra few hours of driving. It should be a definite must on the things to see list on your southwest Florida vacation!
Sarasota is another of the beautiful Florida Gulf Coast Beaches. Take a day, visit the Mote Aquarium and see the sights and beaches of Sarasota!


If you are looking for more things to do in Sarasota,
hotels and restaurants, here's some suggestions!
What is the Marine Aquarium in Sarasota?
It began in 1955, in a humble, small building, as an outreach arm of Mote Marine Laboratory. The Aquarium opened in 1980. Mote Marine Laboratory has additional private lab facilities in Charlotte Harbor, Eastern Sarasota County and Summerland Key. There is one other outreach exhibit focused on the coral reefs, within the Eco-Discovery Center in Key West.
There's also a traveling exhibit, the Mote Mobile, which brings real sea life and educational exhibit content to the public at events and venues throughout Florida.

This particular Florida Aquarium and Laboratory, is one of the few private marine research labs in the world. It is an independent non-profit organization, funded through grants from government, foundations and other sources, as well as private donations, fundraisers, Aquarium ticket sales and other sources. It is focused on public understanding of the science of the sea. The Mote organization does research as well as connect with the public, via this wonderful aquarium.
There is an extensive team of experts and volunteers that carry out research and laboratory experiments, to further marine research and to learn more about the mysteries of the sea and its creatures. The Mote Aquarium has a volunteer program that comes with some benefits.


Read visitor reviews on the Mote Marine Aquarium
There's so much to see and learn at the Mote. Here's some of the highlights.

Mote Marine Aquarium
Shark Feeding- Monday, Wednesday and Fridays, watch the sharks and fish feed! NEW! Monday, Wednesday, Fridays @ 11am…Narrated Training Session with Sharks – Free. Learn more about how the aquarium cares for sharks and training methods used to keep them healthy.
Fossil Creek – Buy a pail of sand, sift for fossils! Find shark's teeth, stingray tails! Finder's keepers, too! Sand bucket: $5.99 + tax.
Seahorse Lab . See and learn about these fascinating creatures!
Morning Rounds Learn about Mote critters from aquarium experts, help feed them and learn about their habits and care. For 10yr+ $35 pp. Reservations required.
Sea Turtles – Rescued, injured and sick sea turtles are cared for her. A turtle, blinded as a result of being caught by fish hooks, resides here permanently. Staff routinely checks beaches during turtle nesting season, and rescues turtles in need of help. Turtles can recover at the Mote hospital.
Dolphins, Manatees and Sea Turtles. Visitors can see real dolphins, manatees and sea turtles, which call the Aquarium their permanent home! These creatures live at the Aquarium, as they cannot be released into the wild.
Exhibit Highlights

Rivers to the Seas – Focus is the 'freshwaters' of Florida, their fish and animals.
Creatures from the Reef – See and learn about fish and creatures of Florida's live reefs.
Sharktracker – A very cool hands-on display! Touch screens that let you track young Blacktip sharks in the Terra Ceia Bay. Also see bonnethead sharks, in the aquarium.
Sea Turtle Rehabilitation Hospital
Over 100 rescued sea turtles have been cared for and released back to their natural habitat, at Mote. The released turtles are tagged with a microchip, for follow-up on their habits and progress. These loggerhead turtles appear on the endangered and threatened species list, making this specialized care program of great value to the Florida environment. The hospital is not open to the public.


Dolphin and Whale Hospital


Sick and stranded dolphins and whales are also cared for, and tracked when they are returned to their homes. This hospital is not open to the public.




For Parents and Teachers

There are various programs for different age groups at Mote Aquarium. Parents and educators will find various materials from Mote's website, to familiarize kids with the Aquarium, before their visit or some follow up applications for post-visit.


Adopt-an-Animal Program

Anyone can adopt an animal at Mote Aquarium, by visiting www.mote.org/adopt. This adoption program helps fund the care of the dolphins, manatees and sea turtles at the Aquarium.


Location, Directions, Admission, Hours of Operation

Location 1600 Ken Thompson Pkwy, Sarasota, Florida. A few minutes drive from Downtown Sarasota. The Aquarium is actually on City Island.
Travel time from Naples Florida to Sarasota. At 60 mph, it would take 1.75 hr to drive to Sarasota. If your vehicle's gas mileage was 35mpg+, gas @ $2.80/gallon, it would cost $15 for a round trip from Naples to Sarasota. If your vehicle gets 20 mpg, gas @ $2.80, a round trip would cost $25. At 60mpg? Round trip, $8!!!
Driving Directions Fruitville Rd(Exit 210), from I-75 W to Tamiami Tr(US41). Go left. At Gulfstream Ave., go right. Cross Ringling Causeway to St. Armands Circle. Leave the Circle at North Blvd of the Presidents. Go 1 mile to the traffic lights at Key Thompson Parkway, then go right. Parking lot for Mote Aquarium is on the right, and there is no charge for parking.
Admission Adults & Kids 12yr+ $17, Seniors $16 (65+), Kids (4-12) $12, under 4 is free.
Hours of Operation Mote Aquarium is open 10am-5pm daily/every day, year round. Gift shop on the premises.

Check Mote's website for current information and further detail. http://www.mote.org/ or call 941-388-4441. On their website, there's educational material, a 'Mote TV' channel with several clips about sharks and loggerhead turtles, as well as an interactive shark tracker, too.
Other Florida Tourist Attractions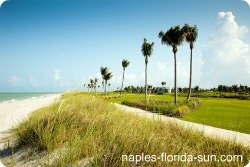 There's certainly no shortage of things to do in Florida! There's Disney World, Epcot Center, Kennedy Space Center, the Everglades, the live reef at Key West, are but a few of the fantastic things to see in Florida!





Where would you like to go to next?

Are you looking for things to do in Naples?

Would you like to visit more nature or eco-destinations in the Naples area?

Perhaps you'd like to visit another of the Florida Gulf Coast Beaches while in the Sarasota area.





Return from Mote Aquarium to Florida National Parks

Return from Mote Aquarium to Naples Florida Home Page