The Florida East Coast Beaches
The Florida East Coast Beaches! The beaches of the east coast of Florida cover over 350 miles of coastline. The most notable feature of these east coast beaches of Florida, is the great variation of beach types found over this stretch of Florida coastline.

The FL east coast beaches hold a special place in my heart. My first exposure to a 'real Florida beach' as a child, was on the east coast of Florida. Our family vacationed in the Fort Lauderdale, Hollywood Beach area for several weeks.

Waking at dawn, walking and hunting on the beach for shells and sea creatures washed in by the waves, was an absolute thrill!
The sunrises over the Atlantic Ocean were absolutely spectacular! Our days were filled with swimming, shelling, beach games, surfing, shopping for touristy trinkets, picnics and eating at great restaurants!
Fabulous memories for a child!
The Florida east coast beaches have seen changes over the past 20 years, but it still maintains that wonderful 'east coast Florida beach flavor' that attracts millions of people from around the world, year after year!





East Coast Beaches of Florida for a FL Beach Vacation?
These beaches border the Atlantic Ocean. Generally speaking, the beaches of FL's more northern section of the east coast, tend to have coarser hard-packed sandy shores, rougher surf, cooler water temperatures and receive lots of 'wind action'.
The beaches of FLA's south section of the east coast, have finer textured sand, more gentle wave action and the waters are warmer. Florida's southeastern beaches also lie on the Atlantic Ocean shores, but receive a greater influence from the Gulf Stream.
Many of the beaches on this coast are pretty close together, so 'beach-hopping' is also a possibility!
Affordability of East Coast Florida Beaches Vacations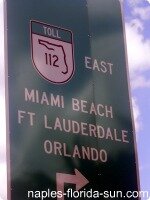 Although the Florida east coast beach scene has changed somewhat over the past 20 years, it still holds the opportunity for families to experience a Florida beach vacation, that is both enjoyable, memorable and affordable.
The Florida east coast beaches tend to be less expensive for vacationing than the Gulf coast of Florida's western coastline. Hotels, resorts and restaurant prices, for the most part are more economical, should visitors be on a budget, or if there's a family in tow.
There are several airports near the cities and beaches of eastern Florida: Fort Lauderdale, Miami, Orlando, Jacksonville, Daytona, and Melbourne, thus making air travel prices to Florida, more competitive and ultimately cheaper for travelers.


Florida Beaches of the East Coast

Boca Raton/Deerfield Beach – White sandy beaches. These beaches are great for fishing, hiking, picnics, water sports such as sailing, jet skiis, water skiing, surfing. Gulf stream runs very close to this area.
Daytona Beach – Nascar, Bike Week, Daytona 500, Spring Break Florida and more events, make this a very busy beach of Florida. Parking is allowed on the beach! A very typical beach town, with a variety of water sports, swimming and surfing.
Fernandina Beach – on Amelia Island, fascinating historical background and sites. Good for families and romantic getaway vacations. Shopping, fishing, beach activities. Quiet, relaxed area.


Fort Lauderdale – Over 20 miles of great beaches, boardwalk, and good price range for hotels and restaurants. 300 miles + of inter-coastal waterways.
Fort Pierce- More rustic, less developed beach. Good Florida beach for surfing and fishing.
Hollywood Beach – 7 miles of white sand beaches. Boardwalk lined with eateries, shops and outdoor bistros and cafes. Casinos and active night life.
Miami Beach – Lots of beaches to choose from in this high-profile beach area of South Florida! Golfing, hot night life, culture, shopping, attractions, casinos and more! FL beaches for picnics, water sports, beach sports, fishing, nude sunbathing. Home to the One of THE hottest beaches of Florida and anywhere, South Beach: clubs, shops, eateries, resorts a la chic and unique!
New Smyrna Beach – A good family beach, due to more gentle surf and less 'undertow'. Good beach for water activities and sports, especially surfing for varied skill levels.
St. Augustine- 43 miles of beaches. Opportunities for camping, fishing, surfing, jet skiing, parasailing and gathering shells.
West Palm Beach – beautiful beach with upscale shopping, accommodations and nightlife.

The Florida east coast beaches are a popular choice by many who choose to vacation in Florida, due to the wide range of beach style and price range, and plethora of choices for beach activities!
Where Would You Like to Go Next?