The Best Florida Beaches:
Our Top 5 Picks!
What are the best Florida beaches? Well, it depends who you ask! Florida is all about beaches, beaches and well…. beaches!Everyone is looking for something different when they are looking for the best beaches in Florida.
Some are for looking for the best beach for romance, some for a cool beach for water sports, or some want a family friendly beach for the kids!


Lucky for us, there are SO many awesome beaches in Florida to choose from! With over 1,000 miles of Florida beaches, the Sunshine State has a beach to suit everyone!

We've sifted through the hundreds of beaches in Florida and picked 5 of what WE think are the best Florida beaches and thrown in a few reasons to justify our choices!. Take a look and see if any of these FL beaches are likely to ring your bell!
Here are the 5 top picks! (in no particular order)!
The Best Beaches in Florida!


1. Naples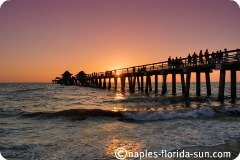 Nestled in on the southern shores of the Gulf side of the state, this Florida beach gem shines in all it's natural glory. The Naples beaches are laden with glorious soft, white, sugary sand, laced with tall graceful palms and laced with sea shells! There's lots of things to do in Naples too!


Why Naples?
besides luxury resorts and accommodations, there's plenty of well-priced options
the beaches are not overcrowded and it doesn't attract the Spring Break party crowd
very clean well-groomed beaches
lots of nature parks, preserves and beaches to enjoy for free or low cost
stellar sunset views, especially from the historic Naples Pier
2. Captiva and Sanibel Island

Captiva and Sanibel Island, are spectacular west coast Florida, barrier islands. These
Gulf coast beaches
are located on on what is thought to be one of the most desirable beautiful beach vacation spots in the U.S. Such a quiet, tranquil atmosphere at these beaches.
Because there are restrictions for commercial and residential growth, it's certainly one of Florida's best preserved beach areas.
An intriguing fact about this area is there really aren't any attractions other than the pure sandy beaches, the calm waters of the Gulf and the fresh breezes! It's a wonderful area to enjoy nature, water sports or just plain relax!
Why Captiva and Sanibel Islands?
Romance! Popular for marriage proposals, beach weddings, honeymoons, romantic Florida beach vacation spot
the best beach for shelling in America!
not a fast pace here, a quiet place to relax
3. Bahia Honda State Park Beaches in The Florida Keys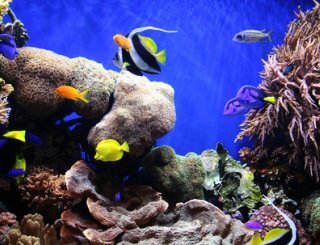 The Florida Keys: an extraordinary 106 mile long chain of islands (keys), sprinkled along the southern tip of Florida, surrounded by the Atlantic Ocean on one side and the Gulf of Mexico on the other.
The Keys are the home of the only living coral reef in the continental U.S.

This reef presents numerous opportunities for diving and snorkeling, to see more than 500+ species of tropical fish, 47 varieties of living coral and lots of other marine critters!
It's one of the world's finest snorkeling destination spots! Of all the Florida Keys beaches, the Bahia Honda State Park Beaches are the best! These beaches are certainly among the most beautiful of Florida beaches and among the most beautiful beaches in the world! This beach undoubtedly belongs on many 'best beaches lists' as well as a best Florida beaches list!
Why Bahia Honda State Park Beaches?
an underwater paradise for snorkelers and divers, both pros and beginners. Ocean kayaking too
overflowing with jungles of palms, gorgeous native vegetation, flowers, wading and shore birds
a photographer's paradise!
inexpensive: $2/day user fee or $36/night for camping
4. Siesta Key

Among the best Florida beaches is incredibly beautiful Siesta Key, situated on Florida's Gulf coast, just offshore from Sarasota. It's an incredibly beautiful 8 mile long barrier island, with pure white fine sandy beaches. Because the water is so crystal clear and warm year round, there's lots of water sport opportunities for para sailing, boating, kayaking, and fishing.

Why Siesta Key?
bird watcher's Paradise! Wild parrots, pelicans, shore and wading birds, Florida Sand Hill Cranes
best beach sand in the world: pure white and 99% quartz, nice and cool to the touch!
great beaches for picnics, shelling, swimming or strolling the shores barefoot!
breath-taking sunset views
fabulous pizza @ Solorzano Bros. Pizzeria! Yummy!
5. Cape Florida State Park, Key Biscayne
Also Florida's Best Beach on the Atlantic Coast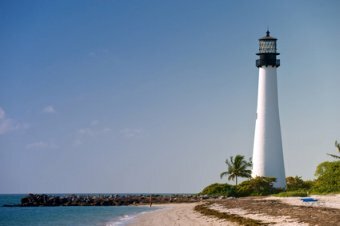 A 1.2 mile long stretch of pure, white sandy, Atlantic beachfront located on the southern third of the island of Key Biscayne, the Cape Florida State Park ranks as not only one of the best Florida beaches, but one of the top beaches in the U.S!
Why Cape Florida State Park, Key Biscayne?
gentle waves on the shoreline due to a reef several miles offshore, no dangerous current due to the miles of sand and grass beds offshore,great for swimming.
pro photographers take photos daily on the beach, so there's chances for family or wedding shots
excellent fishing at this Florida state park
170+ bird species and 50+ butterfly species, Peregrine Falcon, Piping Plover, American crocodile, loggerhead and green sea turtles, Florida manatees are just some of the birds and critters here
lots of shade trees for refuge from the burning rays of the hot tropical sun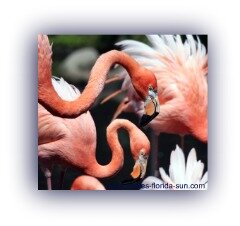 So there you have it, my pick of the 5 best Florida beaches! But don't forget, different strokes for different folks!
If you didn't find a Florida beach that 'does it for you' on this page, try glancing through this list of popular Florida beaches!



Return from Best Florida Beaches to Florida Beaches

Return from Best Florida Beaches to Naples Florida Home Page