The Top 5 Beaches for Family Vacations in Florida
Family vacations in Florida. There's no better place than Florida, for the most awesome, best family beach vacations, anywhere!
Beach vacations in Florida have been popular since the '60's!


Families all over the U.S. and Canada, have been choosing the Florida beaches as their #1 beach vacation destination, for well over 50 years! Florida.
The top choice of so many families in North America, and world-wide, too!


Why Florida?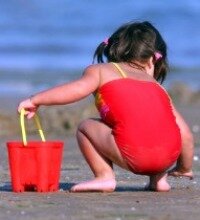 Driving is an option. The fact that Florida is a 'doable' driving distance for many folks in the U.S., is a deciding factor, when choosing a tropical beach vacation spot with warm water! Driving is much less expensive than air-fare, especially for a family.
Choice. Loads and loads of things to do and see in Florida, beaches, hotels, resorts, camping options and restaurants, in all price ranges, which cater to families on vacation. Florida is very kid and family-friendly!
Free. The best things in Florida are free. Swimming, building a sand castle, shelling, playing on the beach, exploring the beaches, enjoying the beautiful scenery, picnics.... all at no charge! One of THE best reasons for family vacations in Florida!
Our Top Picks for Family Vacations in Florida!
Sanibel Island & Captiva Island
Gulf Coast location with awesome beaches for kids, as the waters are calm, without excessive wave action
Relaxing for the parents as it is not an overly busy tourist area
Inexpensive outdoor activities: shelling (World's Shelling Capital!), water fun and activities at the wonderful beaches , eco-destinations and natural attractions nearby such as Ding Darling, and mega-opportunities to explore the great outdoors!


Cocoa Beach Florida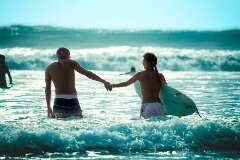 One of the Florida east coast beaches, a very popular beach choice for a family vacation in Florida
Central location in Florida. Disney is a 3/4 hour drive away. Close enough for a day or two of fun with Mickey, but also far enough away from Orlando's hype, to relax and kick-back, too!
Several area attractions including the Kennedy Space Center, a must see Florida attraction. Also,Ron Jon's Surf Shop!
Many economical choices of hotels in Cocoa Beach and restaurants, year-round
Key West FL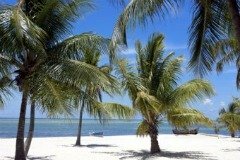 A South Florida beach: perfect choice for water sports especially snorkeling around the live reef, Dry Tortugas close by
Several family friendly hotels to choose from
Beaches and water sports are the main attraction
Laid-back, fun spot for parents to relax, too, excellent choice for family vacations in Florida
St. Pete Beach/Clearwater FL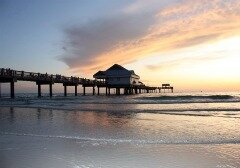 A Florida Gulf coast beach, relatively inexpensive choice of west Florida beach vacation spots
Disney World is a 2 hour drive away, if you want the option to visit
Desirable location on Florida's west coast, beautiful beaches
Loads of attractions suitable for kids in the area and nearby, eg. Crystal River National Wildlife Refuge, Busch Gardens
Plenty of natural attractions in the vicinity
Naples Florida and Marco Island FLA

Panama City Beach FL and Fort Myers Beach FL

Fort Myers Beach and Panama City Beach, are both
Florida Gulf Coast beaches, with nice flat shores, calm warm waters, great for young children to play in and around, excellent choices for family vacations in Florida.
Both areas are affordable with many eco-destinations close by
Affordable lodging and restaurant options at Ft Myers Beach
Panama City Beach hotels and Panama City Beach restaurants
Both of these beaches are also top choices in Florida for college kids on their Spring Break. So, if you don't wish to share your beach vacation spot with college kids during Spring Break Florida, choose your vacation times at these beaches carefully!
Related Articles
Return from Family Vacations in Florida to Florida Vacation Ideas

Return from Family Vacations in FL to Naples Florida Home Page