Your Guide to Florida Zoos
The Florida Zoos. When people think of Florida, their thoughts often include warm sandy beaches and noisy, crowded amusement parks. But, there's SO much more to Florida than Disney World and the beaches.
The truth is, there are a variety of sensational Florida attractions, including a collection of zoos, including some of the finest zoos in the U.S.!
Zoos are a fantastic place to learn about animals and see them in recreated natural habitats. Florida zoos are home to a wide variety of animals, birds and reptiles, and especially of endangered species.




Although some naturalists are against keeping animals in captivity as it is harmful and unnatural, we must remember that the zoos protect them and offer an opportunity for scientists to study their behavior, in an effort to better protect them from harm and help their species flourish. The truth is, many of these Florida zoos are clean and well-kept, offering the animals a safer environment then what they would find in the wild.
Zoos are also a great place for the general public to learn about animal habits and what can be done to keep these great creates safe from harm.
Many of the Florida zoos are known for their educational programs. Schoolchildren throughout the state enjoy visiting these educational Florida attractions, while visitors and vacationers also get to enjoy the various collections of wildlife.
The only way mankind will be able to protect these animals so we can continue to live in harmony with them, is to study them. Florida zoos provide the opportunity to learn about rare species such as the Great Apes of Africa, the big cats like the jaguar, and a variety of rainforest wildlife. Understanding how we can support and protect the habitats these animals call home, is the only way mankind can hope to preserve these creatures. The Zoos of Florida
Florida is home to a variety of fun and educational zoos located throughout the state. Below are links to the best zoos in Florida, for addresses, directions and more information. Ticket prices are listed below.
Most of these zoos have discounted tickets available on their website, for purchase online, or feature a coupon discount to present at the zoo's gates.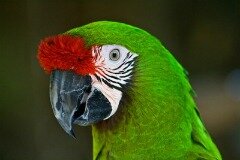 Brevard Zoo -- The Brevard Zoo is located in Melbourne and offers 50 acres worth of animal habitat to explore. There are more than 575 animals representing 165 species from Australia, Africa, and North and South America. The zoo is organized by loops surrounding a flamingo pond, each representing a different geographical region.

Admission: Adults $14.50, Kids $10.50, Kids under 2 are free.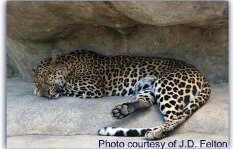 Central Florida Zoo -- This zoo in Florida, located in Sanford, FL features 400 animals+, as well as a variety of domestic animals, an 'insect zoo', a large snake collection, a very cool kid's playground with a water fun park. You can also tour this zoo by 'Segway', too!
Admission: Adults $12.95, Kids $8.95 (3-12 yr), Under 2 admitted free.




St. Augustine Alligator Farm and Zoological Park -- The St. Augustine Alligator Farm Zoological Park has been around for a long time, and is one of the oldest Florida attractions. It features more than 20 species of crocodiles, as well as a collection of birds, reptiles, and other mammals.
It is the only location in which visitors can see every species of crocodile and alligator, as well as a rare collection of captive birds including the cassowary, hornbills, Cape Griffon Vultures, and Pesquet's parrots.

Admission: $21.95, Kids $10.95(3-11 yr), Under 2, free admission.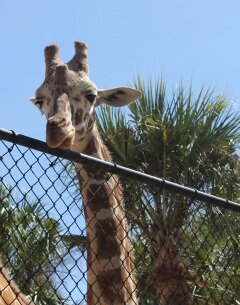 The Jacksonville Zoo and Gardens is home to more than 2,000 animals.
This Florida zoo's main attraction is the Range of the Jaguar, an award-winning Neotropical Rainforest exhibit.
In addition to rainforest wildlife, the zoo is also home to three Great Apes, African Savannah Animals, and a variety of Australian Outback animals including kangaroos, lorikeets, and cassowarys.
Admission: Adults $14.95, Kids (3-12 yr), Kids under 2 are admitted, no charge.



Naples Zoo -- The Zoo in Naples Florida, is a beautiful little zoo, centrally located in the city.
Features include the endangered Florida panther, gators, feed the giraffes, honey badgers, and several shows!
Admission: Adults $16.95, Kids $10.95, Under 2 , no charge.




Tampa is home to the Lowry Park Zoo. This awesome zoo is one of THE top zoos in the entire U.S., and for good reason.
1500+ animals, interactive presentations, sleepover experiences, a manatee hospital, and much more!
Admission: Adults $23.95, Kids $18.95 (Ages 3-11yr) , Under 2 are free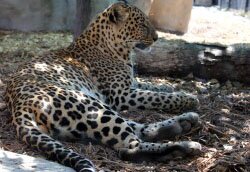 Miami Zoo -- This modern day zoo offers some 'very cool' ways to get around.... by monorail, safari cycles, or trams, for an extra charge.
Features include 2000+ animals, amazing exhibits featuring animals and reptiles from all points of the globe, a butterfly garden, camel rides, tropical gardens, just to name a few!

Admission: Adults $ 15.95, Kids $ 11.95(3-12 yr), Under 2, Free, group discounts


Palm Beach Zoo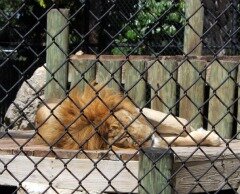 Located in South Palm Beach Florida, this zoo has a long list of zoo animals, fish, amphibians, birds and reptiles! Several programs are part of this zoo's philosophy, to benefit animals around the world! Also features 'water' attractions for kids!

Admission: Adults $18.95, Kids $12.95 (3-12 yr), Under 2, free.


Where Would You Like to Go Next?
Return from Florida Zoos to Things to do in Florida

Return to Naples Florida Home Page