Florida Romantic Getaways:
Our Top Pick of Florida Beaches
for the Ultimate, Romantic
Florida Beach Vacation!
Florida romantic getaways. The Florida beaches are unrivalled for the best romantic vacation spots!
The sunshine state has so much for vacationing couples looking for that special getaway destination!
The perfect romantic, vacation destination needs a relatively quiet, relaxed ambiance, great restaurants, well-appointed hotels and resorts, things to do and see and no Spring Break Florida crowds!
With so many top Florida beaches to choose from, it's difficult to know which of these beaches, would be best suited to a romantic vacation!





We've sifted through the list, eliminated many, due to our stringent needs for a 'truly romantic holiday', and have selected what we personally feel from experience, are the best beaches in Florida to spend a romantic, dreamy, beach vacation for two!







Our Top Selections of Florida Romantic Getaways!
Naples/Marco Island Florida



Mmmmmm. Love this area. A superb choice of Florida romantic getaways!
Naples Florida is best known for the gorgeous shoreline on Florida's Gulf of Mexico, with perfect white sand beaches, where you can immerse yourself in the glorious surroundings with romantic beach walks and take in the stellar sunsets!

Elegant resorts and beach hotels, lots of things to do in Naples, distinctive restaurants, golfing, spas, shopping, cruises, attractions, eco-destinations, perfect picnic spots and visit the ultra-romantic Naples Pier!
Marco Island Florida is a unique tiny Florida island getaway spot. Chic resorts, things to do, restaurants to please...all the makings for Florida romantic getaways for two! It's only a short drive to Naples, should you wish for a change of scenery!


Most Romantic Hotels in Naples





Bellasera Hotel - A lovely, attractive hotel with on-site dining, and spa. Good central location in Naples.




Inn on Fifth - Located in the heart of Naples, Fifth Ave South. Lots of shopping and dining choices within walking distance. Jacuzzi suites available.




Ritz Carlton - Located directly on Vanderbilt Beach. For a world-class, sizzling resort experience!



Edgewater Beach Hotel - Located on the Naples beach front. Spacious suites, on site dining.



Naples Beach Hotel - Located on the beach in Naples. Fantastic central location, close to shopping, entertainment, attractions.


Most Romantic Restaurants in Naples




Most Romantic Hotels in Marco Island





Marco Beach Ocean Resort - Located on the beaches of Marco. Well-appointed suites. Top notch in-house dining available.



Marriott Marco Island - Top, luxurious, beach-front resort. Lots of upscale amenities, including a day spa, for the ultimate in Florida romantic getaways for 2!




Hilton Marco Island - A beach resort, with in-house dining and spa.


Most Romantic Restaurants in Marco Island


If you're in need of a car rental in Florida,
Save $30 on Airport Weekly Rentals in Florida
Key West, Florida

Key West is a delightful choice for Florida romantic getaways!
No matter if fun, energetic outdoor activities or savoring some laid-back relaxation by the pool with a margarita, is your goal for the day, Key West has got you covered!
You'll have no trouble relaxing on a romantic Florida vacation in Key West!

World class snorkeling, scuba diving, water sports, sight-seeing, charming resorts, restaurants, night-life, amazing sunsets..... set in the perfect lush, tropical climate!


Most Romantic Resorts in Key West





Little Palm Island Resort & Spa - Very exclusive spot, located offshore. Travel by boat or plane! Very private, very sultry, very romantic!




Santa Maria Suites Resort - Luxurious, private retreat for couples. Onsite dining.


Pier House Resort & Caribbean Spa - Close to the action of Duval Street, yet far enough away for peace and quiet. Spa, on-site restaurant, lots of activities available. Enchanting resort offering luxury+!



Most Romantic Restaurants in Key West


Sanibel/Captiva Island, Florida
A remote, luscious, slow-paced, ultra-green beach area of Florida: custom made for Florida romantic getaways!
Take in cruises, bird and wildlife sanctuaries, sight-seeing, shelling(shelling capital of the world), biking around the islands, water sports, fantastic restaurants, exquisite resorts!

Most Romantic Resorts in Sanibel/Captiva





South Seas Island Resort - Located on the exclusive, very private Captiva Island. Variety of choice of intimate lodging.



Sundial Beach & Golf Resort - Well rated resort, located on the beach of Sanibel Island. Beautiful suites, golfing privileges, in-house dining, 5 pools.




Sanibel Sunset Beach Resort - Quiet, relaxed, small, intimate resort, located on the Sanibel shores.


Most Romantic Restaurants in Sanibel/Captiva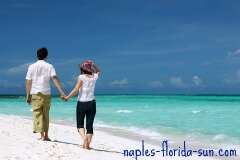 So grab your sunscreen, bikini, sunglasses and sandals!
It's time to plan that amazing romantic Florida beach getaway, you've been dreaming of!


Related Articles
Return from Fl. Romantic Getaways to Florida Vacation Ideas

Return from Florida Romantic Getaways to Naples Florida Home Page