Your Guide to
Jacksonville Beach Florida!
Jacksonville Beach Florida... 20+ miles along the beaches of eastern Florida. It's an excellent spot for a little surfing, wind-surfing, fishing, sun-worshipping, or just good
old-fashioned R & R!
This area is beautiful, with mild fall and spring weather, hot summers and mild to cool winters.
This east coast Florida beach is a popular choice for folks from the northeastern seaboard states in the U.S.
From this area, the drive to Jacksonville Beach, can be completed in a day or two!
Whether you are a couple looking for a romantic vacation or a family looking for active water sport opportunities, Jacksonville Beach Florida delivers!



Location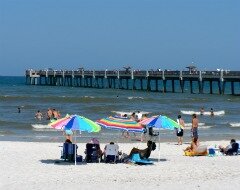 Jacksonville Beach in Florida, is located on the north-eastern side of Florida, on the shores of the Atlantic Ocean, about 60 miles south of the Georgia border.

To get there, take I-95 south, then once in Jacksonville, Florida, take Florida highway 202 east and it will lead you right to the beach.





Things to Do in Jacksonville Beach Florida

The options are many! Cool beach and waterfront activities, as well as the nearby city of Jacksonville, with lots of interesting spots to visit, to round out a Florida vacation!
Museums. There's the Cummer Museum of Art for the art lovers, featuring Western art that dates back to 2000 BC.
Music. For music lovers, you can go to the Times-Union Center for the Performing Arts and listen to the Jacksonville Symphony Orchestra play. They hold a variety of concerts throughout the year.
Theater. Visit the Florida Theater for some performing arts entertainment.
Shopping and Nightlife. Jacksonville Landing is a fantastic spot to enjoy shopping, eating and a lively nightlife. Opposite the St. John's River from the Landing is the Riverwalk. This is a beautiful city park, perfect for family outings and a stroll down the mile long river boardwalk.

Fishing. If fishing is your game, just step out onto the 1000' fishing pier and dip your line in the water! Fishing is popular in the St. John River or the Atlantic. Flounder, redfish, sea bass and trout are a few of the species caught in the rive, while deep sea fishing in the Atlantic, barracuda, bonito, cobia, dolphin, tuna and wahoo are the top catch of the day!

Naval Station. See one of the nation's largest naval ports, the Mayport Naval Station. Here you can see the huge aircraft carriers along with the cruisers, mine sweepers and destroyers. You can tour some of the ships on the weekends, free of charge!
Zoo. Jacksonville Zoo, is a super thing to do in Jacksonville, especially for families.
Tour a Brewery. Budweiser Brewery offers free tours 6 days/week, along with complementary tastings, too!
Sailing Regatta. Mug Race Sailing Regatta, is held here annually...a 35+mile race, in the month of May.
Eco-destinations. Loads of parks and green space in the area, over 100,000+ acres.
Scuba Diving. Dive at a man-made reef, just offshore!
Water sports Kayaking, water skiing, wake boarding, paddle boarding, surfing and jet-skiing


The Jacksonville Beach area has a huge number of places to stay on your vacation, just about every type you may fancy, from bed and breakfasts to resorts, condo rentals, hotels and motels. Some are right on the beach and some are within minutes of the beach!

The accommodations can fit in with every budget from cheap to luxury options!

Several of the hotels on Jacksonville Beach offer beach wedding packages, to host a customized romantic wedding on the beach!

There are some incredible rates to be had at hotels in the area, particularly in the off season!
Browse current rates and deals for Jacksonville Beach hotels.

Restaurants

Whatever you are craving, from seafood to barbecue to steaks to Chinese and everything in between, you'll be sure to find whatever you desire, in Jacksonville Beach!

There are lots of Jacksonville Beach Florida restaurants to choose from!

Jacksonville Beach Florida is a top choice for romantic Florida beach vacations and active Florida family vacations!

For a 'real Florida vacation on the beach', with a little shopping, a little night-life, and lots of beach time and water sports, Jacksonville Beach is YOUR beach in Florida!


Related Articles






Return from Jacksonville Beach Florida to Florida Beaches

Return from Jacksonville Beach to Naples Florida Home Page