Fort Myers Beach Restaurants
Fort Myers Beach Restaurants. Good food. Good drinks. Old friends. Good times on Fort Myers Beach Florida !
There's nothing better than 'sunny days' on Fort Myers Beach! Hanging out, chillin' and just taking life one day at a time, here in paradise!
But hey, what good is paradise, unless there's some place to grab some eats?
The restaurants on Fort Myers Beach are literally steps away from the beach.

And drink service? Yup, on the beach, too! It doesn't get much better than this! Savour the warmth of the hospitality of Ft Myers Beach!



Popular Restaurants on Fort Myers Beach

Fort Myers Beach is literally miles and miles of gorgeous soft white sandy beach, with lots of restaurants, bars and food concessions. There's no worries when it comes to finding a restaurant in Fort Myers Beach! The issue is WHERE to eat!
Fort Myers Beach has lots of variety of restaurants, to tempt the taste buds. Everything from upscale dining to fast food.
There's lots of Fort Myers Beach restaurants that specialize in seafood of course, harvesting the catch right off the coast of Fort Myers Beach. Barbecued food and fast food are THE most popular foods served at these Ft Myers Beach restaurants!


Here's a few of the popular and BUSY spots!
Gulf Shore Grill - The ultimate view of the Gulf of Mexico. Superb seafood. Dine in or out. Yummy cocktails!
Pete's Time Out – A fun, casual, little spot on the boardwalk. BIG, awesome burgers. One of the best I've ever had! Too big to finish. Yummy cheese fries too. Decent prices.


Junkanoo on the Beach- Restaurant and bar, dine in or out. Overlooks the Gulf of Mexico.
Daily happy hour food and drink specials at the bar. A busy spot!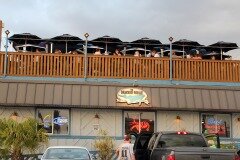 Beached Whale –Eat on the roof and enjoy the sunset or indoors. Fantastic spot if you 'dig' people watching....especially on the beach! Award winning bar. Live music. Dancing. Tons of fun. Great seafood.

Mothers Beach Pub & Grill – Nice clean place. Decent service. Very yummy cheeseburger....maybe the best on the 'Fort Myers Beach'!



Doc Ford's Rum Bar & Grille – Fun, lively spot!
Live entertainment.
Good seafood. Nice beachy ambiance.
I love the 'peel and eat shrimp'.

Smokin' Oyster Brewery – Superb seafood. Live entertainment. Laid-back casual atmosphere. Try the Coconut Shrimp & their specialty drink 'PITA' (Pain In The !) Great food, service and value.
Bayfront Bistro – Waterfront view. Upscale. Sushi bar. Daily happy hour specials. Fabulous food.

Are you looking for a good hotel in Fort Myers Beach?


Return from Fort Myers Beach Restaurants to Fort Myers Beach

Return from Fort Myers Beach Restaurants to Naples Florida Home Page