Experience The Marco Island Marriott Resort!
The Marco Island Marriott Resort is located on the pristine, white, sandy beaches in Southwest Florida's, beautiful gem, Marco Island Florida.
This beautiful , unique resort offers a serene paradise get-away that will be unlike any other vacation escape you have ever experienced.
$225 million redesign and renovation gives this luxury resort, a brand new world-class touch.


If you are looking for a wonderful family vacation, a dream golf course, a dreamy beach wedding or even a romantic hideaway, this is the place for you.

The Mariott Marco Island Resort, will even please the eco-minded traveler, as they are a leader in the responsibility hospitality management.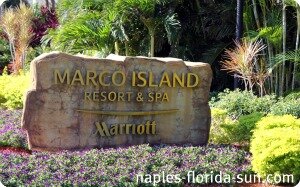 Their lengthy list of 'green efforts' efforts is quite impressive for the environmentalist, who wants to be sure their vacation dollars are supporting a worthy cause.


Dining at The Marriott

At the Marco Island Marriott, choose from fine cuisines, with everything you'd want from fun and casual to formal and elegant.
One of the finest Marco Island Hotels, it's hospitality flows through to the remarkable restaurants, which offer their creative tropical fare with just a touch of Southwest Florida magic! Or, choose from any of the superb restaurants on the island! superb restaurants on the island!


The Marriott Resort Spa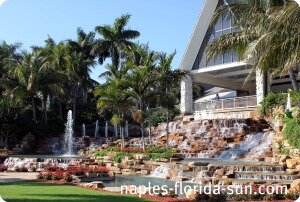 Slip into luxurious tranquility in the resort's Balinese-style health spa.
The state-of-the-art fitness facility and salon services will pamper and please even the most demanding of guests, far beyond their wildest dreams!
You will emerge rejuvenated after indulging at the Spa.
Be sure to browse the the Spa Shop and enjoy the Spa Cafe as well.
Check
Weddings at The Marriott Marco Island

Host your dream wedding at the Marco Island Marriott Beach Resort and make your special day, a day to remember always. A beach wedding at sunset at their Gulf of Mexico beachfront location, on Marco Island, is the stuff dreams are made of. Arrangements for a moonlit reception to follow, would be a plan for the end of a perfect day.
The bride and bridal party can be spoiled before and after the ceremony, with the bridal party spa packages, and the groom and ushers can relax with an afternoon of golf. Even the honeymoon will be extra special in the unique honeymoon suites.
This Marco Island Resort offers a wedding co-ordinator to assist in planning an event to please, right down to the smallest detail. The result? A fantasy wedding you will never forget! Or, if you've decided to plan the wedding yourself, here's a few romantic beach wedding ideas!
If you're planning on a wedding in Southwest Florida,
you may find this Wedding Directory useful!
Things to do in Marco Island
The resort offers many activities, so there's no chance of being in paradise and being bored! The Marriott Resort on Marco Island, offers arts and crafts sessions, bingo, beach volleyball, a kid's camp, Everglades excursions, spa and fitness classes, movies, tennis, a game room, a dolphin watch excursion, parasailing, sailing, golfing, wave runners and the list goes on!
However, should you be looking for a change of scenery, Marco Island Florida has plenty of great attractions and things to do!
Goodland is a tiny village nearby, with big personality...a great way to spend an afternoon! Or cruise the Gulf of Mexico on the Marco Island Princess or take in one of the tours in Marco!
There's also a nice selection of Marco Island Restaurants to choose from too! Naples is only a 30 minute drive from Marco, should you decide to take in some of the best shopping to be found anywhere!
The Marco Island Marriott Resort offers the traveler, a dream vacation on the exclusive island paradise of Marco Island!
If you are looking for a vacation that will put you in the lap of luxury and promises to surround you with peaceful and tranquil surroundings, the Marriott Resort in Marco Island, will give you this and more!
They have everything needed to relax and unwind. A visit to Marco Island is the right choice for the best Florida beach vacation. And staying at the Marco Island Marriott, is the 'icing on the cake'!

Related Articles
Return from Marco Island Marriott to Marco Island Hotels

Return from Marco Island Marriott to Naples Florida Home Page