The Naples Shopping Experience
Naples shopping offers a fine, most extraordinary collection of shops and boutiques. You'll find the best shopping in Florida or anywhere, right here in Naples.
I truly enjoy shopping. No doubt about it.
I guess you could even say I take my shopping very seriously.
When I first discovered Naples shopping upon my first visit to the area many years ago, I was ecstatic.
I was so impressed that there was such a great selection of shops and many were of world-class caliber.
There's plenty of Naples Florida shopping to keep even the 'most demanding shoppers' busy and happy.
Boutiques, art stores, malls, clothing and shoe stores, beach and surf shops, unique, eclectic little shops... It's sheer bliss!
Shoppers. Please take note.

Wear comfy shoes when shopping in Naples Florida, that'll carry you through the day.
Be sure the back seat and trunk of your car are cleared out for your shopping bags.
Stock your wallet with lots of cash and credit cards.
Now you're set for a shopping adventure extraordinaire'.
Ready for a little of 'la dolce vita'?

Here's the scoop on the shopping hot spots in Naples.
---
Naples Shopping Venues
Waterside Shops


The gorgeous architecture of the Waterside Shops, along with the accents of water features, set the stage for a spectacular outdoor style mall.
The sheer luxurious setting of this Naples shopping venue, attracts both serious shoppers and window shoppers alike.

Location: West side of US41 and Pine Ridge Road

---
Village on Venetian Bay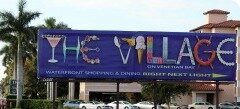 This unique and delightful shopping venue consists of a collection of upscale shops and eateries in a setting reminiscent of a Mediterranean-style village.
Shop until your heart's content in this charming Naples Florida shopping hot spot, The Village on Venetian Bay.

Location: Park Shore Drive and Gulfshore Blvd.
Nearest hotel: Park Shore Resort
---
Coastland Center Mall


The Coastland Center Mall is a more conventional style mall, the only one of it's kind in Naples Florida and the surrounding area.
With it's tropical resort décor theme, 150+ stores and several eateries, a Naples shopping adventure isn't complete without a visit to this mall.

Location: Intersection of US41 and Golden Gate
Closest resort: Naples Beach Hotel
---
Miromar Outlets

This outlet mall consists of over 120+ outlet stores.
The savings can be tremendous, often savings up to 70% off original retail prices…. which means bargains galore.
You'll find many great brand name manufacturers at this popular outlet mall! There's also several good restaurants on site, to relax and regenerate.

Location: Interstate 75, Exit 123

---
Mercato Center


Mercato is extraordinary. It combines upscale, modern residential living, shopping, dining and entertainment options, all in one spot. It is located in a very desirable location, literally minutes from Vanderbilt Beach on the Gulf of Mexico.
At Mercato........
There's an 11-screen movie theatre with reserved leather seats, and drink service
Live entertainment @ Blue Martini, bistro and bar
Monthly street party featuring live music
Shops and boutiques: home décor, designer clothing, jewelry, swimwear, and more
Regular food sampling @ Whole Foods Market
Fund raisers and special events
Be sure to take the time to explore this sophisticated and ultra chic Naples shopping hot spot.

Location: Intersection of Vanderbilt Beach Road and Tamiami Trail North
Nearest Accomodation: La Playa Resort
---
Downtown Naples Florida

In my books, Downtown Naples includes Fifth Avenue South, Third Street South, Bayfront, Tin City and Crayton Cove.
Here's 'the scoop' on each of these shopping areas in Downtown Naples.
Nearby Place to Stay: Bellasera Hotel, Naples
---
Tin City


This 'funky' waterfront shopping spot has lots of unique clothing and gift stores to enjoy on your Naples shopping expedition.
At Tin City, you can take in some casual shopping, watch the fishermen, or have lunch at one of the yummy eateries.


Location: Tamiami Trail East, right across from Bayfront
Right next door: Naples Bay Resort
---
Fifth Avenue South


Fifth Ave. South is a stellar Naples shopping hot spot.
This stunning retail area is lined with trees, beautifully landscaped and boasts some of Naples' most chic and prestigious shops and restaurants.
If you love shopping in Paris or Milan, you'll love shopping on Fifth.
This glamorous Florida shopping district is an absolute 'must do' when visiting Naples Florida.

5th Ave. Hotel: Inn on Fifth
---
Third Street South


The Third Street South shopping district is situated in the very heart of what is considered Old Naples.
You'll see the wonderful Caribbean and European architectural influences in the popular sidewalk cafes, bistros, and restaurants! Browse through the sophisticated boutiques and art galleries.
Take the time to enjoy a leisurely stroll through this delightful downtown Naples Florida shopping district.

Location: Downtown Naples, 3rd Street South
Closest accomodation: Trianon Old Naples
---
Bayfront

The bright, wonderful colours of the European-style architecture will be the first thing to catch your eye when visiting Bayfront.
You'll find designer shops, art galleries, restaurants and regularly scheduled entertainment! If you like to shop, dine and play in style, you've come to the right place.

Location: 470 Bayfront Place, just directly across from Tin City
Convenient accomodation: Bayfront Inn 5th Ave
---
Shopping in Naples Florida isn't 'just shopping'! It's an exciting adventure for the serious shoppers AND the browsers alike.


You'll be delighted with each of the Naples shopping hot spots listed above!
All have something special and unique to offer.

Other Articles You Might Like.....
---
Naples Florida Home > Things to Do In Naples  > Shopping