Discover Goodland Florida
Goodland… so close to Marco Island, yet so far! This tiny, charming village is located on the southeast area of Marco…… a total of one square mile of land, surrounded by water!


It is believed that the area was originally founded in the early 1500's, as very old Spanish maps indicate that the area was originally called 'Good Land'.
This area is an inspiration for artists…. You'll see them sitting along the waterfront, working away with their paint palettes and canvases. You'll see boats, crab traps and the waterfront....a perfect picture of a laid-back fishing village.
….Oh, and don't expect a lot of 'fuss' in Goodland. There's no sidewalks and not a lot of 'frills' and extras! No high rises, condos, or high-end clothing boutiques…….. not here……. It is what it is. Plain and simple. A unique, eclectic little spot to tour around, browse through the shops, check out the marinas and tackle shops, take some photos, enjoy a cold beer and some great seafood.
Do take a day, an afternoon, or just a few hours to check out this rustic, beautiful little spot, when visiting Naples, Marco Is, or Southwest Florida….. for the 'real flavor' of old Florida!

Check rates for nearby Hotels and B&B's near Goodland.



Things to Do in Goodland!
Stan's Idle Hour

If you've ever visited this quaint little community, you've probably been to Stan's Idle Hour! Stan's is a 'Florida Beach Bar' in the true sense of the word and is a must-do if your visit this little village! It's located on Goodland's waterfront, drawing patrons from both near and far…. and yes, it is accessible by boat!
On Sundays, Stan himself does an outdoor show from 1-6pm….. telling jokes and singing along with a live county band, much to the delight of the crowd! For more information, regarding music and entertainment times, call 1-877-387-2582 or 239-394-3041.

Little Bar Restaurant

An awesome unique restaurant, with good food, lots of cold drinks and entertainment! Great 'fresh' seafood! A good spot to get a taste of the 'local atmosphere'…AND decent prices….. a good find!


Old Marco Lodge Crab House

This waterfront seafood restaurant has a wonderful view of the Bay and the Marco River, which can be enjoyed from inside or on the deck.


Annual Mullet Festival

The annual Mullet Festival is a three day celebration, held the weekend prior to the Superbowl, near the end of January. A popular event for locals and Florida visitors! Lots of food, cold beer, live entertainment and fun! Held at Stan's Idle Hour.



Fishing , Sightseeing, Birding Tours

If you're love fishing or are a nature love, you'll love this area of Florida! Here's a few places to contact for charters, gear and tackle, and available tour opportunities.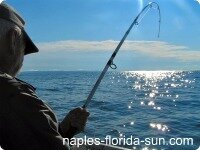 Capt. Jay's Fishing Charters 239-970-2105
Everglades Area Tours
239-695-3633 (broad variety including kayak, power boat, guided fishing, birding etc.)




More information regarding fishing charters and things to do in the area!



Where Would You Like to Go Next?
Return from Goodland to Marco Island Florida

Return to Naples Florida Home Page