Discover Dania Beach Florida!

Discover Dania Beach Florida: One of the Florida East Coast Beaches!
Picture this. You are lying on a unspoiled beach as the briny warm water gently caresses your toes as you soak in the sun's rays.
There are a handful of wonderful isolated beaches to choose

from, where you can relax in the shade of a coconut palm tree, listening to the soar of the waves as they hit the shore.

Or, maybe you'd rather be on a stroll through a quaint antique & art district, taking in the charming history of the area.
It's YOUR vacation.... you choose!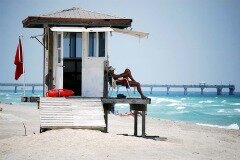 Dania Beach Florida, a Florida East Coast Beach, offers a choice beach in Florida, shopping, a bit of history, but most of all a perfect spot to spend a relaxing tropical vacation!
This seaside town welcomes you with warmth and friendliness. The weather is wonderful year round, so don't forget your bikini and your sunscreen!






Location

Dania Beach is located between Miami and Ft. Lauderdale along the Eastern coast of Florida, right on the Atlantic Ocean.
Just take I-95 south just past the Fort Lauderdale- Hollywood International Airport, and you will be at Dania Beach.
Not far away are the awesome shopping spots of Aventura, Galleria Malls and the Sawgrass Mills.
This superb getaway spot is great for just enjoying the beach, boating, shopping and gambling, if that's your thing! You can stroll through antique shops and the beautiful art galleries, stop along the way for an ice cream treat or simply relax and enjoy a coffee at one of the charming cafes.


Fun Things To Do

The beach is always a main attraction for swimming, boating and fishing.
If you enjoy Florida gambling, you'll love the wonderful Dania Jai-Alai and may even want to play in the Texas Hold'em poker tournament!
If you're an antique collector or browser, you'll enjoy a stroll through the art district to take in all of the antiques and artwork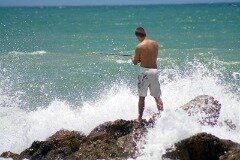 If fishing is your thing, you will want to visit the Fishing Hall of Fame and take a gander at the record-size game fish they have on display.
There are also many parks and nature trails if you wish to spend your leisure time in the great outdoors!

Should you be looking for exciting night-life, unique sights and never-ending fun, it's good to know that Miami Beach and Fort Lauderdale, are just a stone's throw away!
Accommodations

The Dania Beach Florida area is well-stocked with quaint inns and hotels. You'll find plenty of Bed & Breakfast spots and hotels right on the beach, near the airport and in the downtown area.
There's plenty of selection for everyone's taste in accommodation, whether for a family or a couple. Accommodation prices and packages for this Florida beach vacation area, are quite affordable. There's also a wide variety of hotels in the nearby Fort Lauderdale area too.
Dania Beach Vacation Rentals, are a good alternative to the hotel scene, should that be your preference.
In this area, another option to consider, especially for families or large groups, looking for cheap, affordable vacation packages, are hotels further away from the beaches, as there can be a nice cost savings and you'll save money to spend elsewhere on your beach vacation in Florida!

Check for Dania Beach FL latest hotel deals and reviews!


Dining

Dania Beach offers a great variety of cuisines to choose from in the local eateries!

Steakhouses and fresh seafood restaurants are quite popular. The Pier Restaurant, located on the Dania Beach pier, offers a fantastic view and great seafood menu.....perfect for an evening's entertainment!
Dania Beach Florida has plenty of well-known chain restaurants. Or, perhaps you may discover a new favorite in Dania Beach. Be sure to try out the local flavors of their famous ice cream parlor and also one of the old-world style oyster and clam bars.


Related Articles

Have A Great Story About This Topic?
Do you have a great story about this? Share it!
Visitor Reviews of Dania Beach.
Click below to see contributions from other visitors to this page...

Dania Beach Pier, Florida Not rated yet
We attended a conference in sunny Fort Lauderdale for a couple of days. The conference center is located right next to Port Everglades where cruise ships …
Return from Dania Beach Florida to Florida Beaches

Return from Dania Beach FL to Naples Florida Home Page