The Waterside Shops: A Classy,
Chic and Ultra Modern
Naples Florida Shopping Venue!
Discover the Waterside Shops for the ultimate shopping experience in Naples Florida! Shop, window shop or enjoy the great restaurants!

This truly is a marvelous collection of upscale shops and boutiques!
It has a unique architectural design, accented by beautiful water features throughout, particularly in the center courtyard, where there's often live music!


This beautifully designed shopping venue in Naples, certainly has all of the ingredients for some great 'retail therapy'!!
Shopping in Naples FL, is one of the top things to do in Naples, for visitors enjoying their vacation in Naples!


Naples Shopping at It's Best!
Most of the shops are upscale although there are a few in the average price range. In the summer months, the slower retail time, there are some great bargains to be found, as many of the shops discount their prices!

After your shopping expedition, the restaurants California Pizza Kitchen, BrickTop's, Nordstorm, the Silver Spoon Café and Brio Tuscan Grille, which also has a fantastic happy hour, are great spots to relax and enjoy lunch or dinner. In the alternative, check out these fine restaurants in Naples! There is a Barnes and Nobles in the parking lot too, for a quiet after-dinner coffee and time to browse through the great book collection.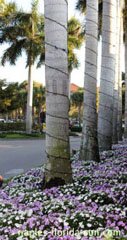 The Beach House of Naples is my favorite spot for 'bikini shopping'! They have loads of designer swimwear, beach attire and accessories! They certainly have a wonderful unique selection of awesome beachwear of all colors and to flatter all body shapes! I really love the personal service and attention I receive when shopping here!
This delightful shopping hot spot is a must for all shoppers!
It's a great spot to just stroll around, enjoy the scenery and window shop, too.
Enjoy one of the best hot spots to shop in Naples Florida!



Nearby Hotel: The Hilton Naples Florida
If you're looking for a hotel in Naples close to this very popular shopping centre, the Hilton Naples, is within walking distance!
Just out the door and a few minutes walk, will take you right to the doors of the Waterside Shops! Today's rates for the Hilton in Naples.


Hours of Operation

Monday to Saturday: 10am to 7pm
Sunday: Noon to 6pm
5415 Tamiami Trail North
Naples Florida 34108
239-598-1605


Related Articles