The Ritz Carlton Naples:
For Luxury Plus
The Ritz Carlton Naples, sparkles, on the shores of Vanderbilt Beach. It portrays the personality and life-style, of the rich and famous, with its luxurious upscale, world-class atmosphere!
Anyone looking to have a luxurious Florida beach vacation in a tropical paradise, will want to check in at the Ritz!
This is THE place to be pampered!
Located right on the Gulf of Mexico on Vanderbilt Beach in Naples FL, the elegant Ritz Carlton Naples, offers two hotels in Naples: one on the beach and one on a golf course.
Both of these Naples FL hotels have been designated as 'Florida Green Lodging' properties, respecting the future of our earth!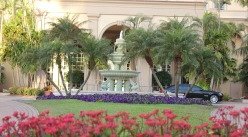 This outstanding and award-winning Naples beach hotel, offers extraordinary sunset views over the Gulf of Mexico. If you have high expectations of the Ritz Carlton Naples, you will not be disappointed.
Their attention to detail of every aspect, at one of the finest hotels in Naples Florida, has the potential to make your beach vacation in Naples, one to remember for a life time!


The Suites at the Ritz Carlton

All guest rooms at the Ritz are lavish and impeccably decorated.
They feature individual balconies to oversee the beautiful Gulf of Mexico (from most rooms). The entryways are made of hardwood flooring that open to a room, featuring ultra comfortable goose-down plush bed sets, with plenty of pillows atop a lavish feather bed covered with 400-count Egyptian cotton sheets!
Relax while watching the 32 inch flat-screen LCD TV complete with DVD player where you can see on-demand videos and the handy viewing guide.
All rooms come with an iPod docking station. The bath features a marble vanity with a tub and shower.
Housekeeping will come by twice a day, complete with evening turndown service.


Discover the Ritz Carlton Naples
World-Class Amenities and Services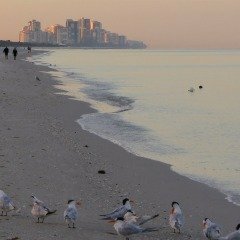 The Tri-Level Ritz-Carlton Spa.
Relax in one of the 30+ revitalizing and restoring aqua lounges, outdoor mineral pool saunas, and steam rooms. Plus receive facials and general salon services at The Salon, if you wish.
Dining.
The finest in culinary experiences are offered at the restaurants at the Ritz-Carlton Naples Florida. Choose from dining on the waterfront, Mediterranean cuisine that is perfect for the family, or one of the nine spots on the premises.
There are child care services and programs, priced at $35/day, which provide a well-planned and orchestrated program, as well as a nourishing lunch, for children age 12 and under.
Other world-class amenities includes: super-soft terry bathrobes, high-speed internet (wireless), in-room safe, mini refreshment bar that is completely stocked, coffee and tea refreshment box, in-room dining service, round the clock.
More world-class amenities and services

2 heated outdoor pools plus a family pool, a lap pool
(Jr. Olympic-size), a pool just for children and a whirlpool
Personal concierge service and cabanas, pool-side

Fitness Center service included complete with cardiovascular workout and strength-training equipment (state-of-the-art), consultation with a nutritionist, exercises for groups,
and personal training, are all available

Private childcare services
A children's program, offering first hand experience with the environment at their in-house Nature's Wonders Center

Play and learn tennis, pro shop available
Beach with pristine white sand that stretches for several miles in either direction

Cabanas, umbrellas and beach chairs

Parasailing, kayaks and pedal boats on the water front
Business Center facilities
Shuttle service on the half hour between The Ritz-Carlton Golf Resort, Naples and The Ritz-Carlton Naples Resort
In-house car rental service
The Ritz-Carlton Gift and Sundry Shop
The Ritz Carlton is for vacationers, who are looking for a
top-shelf, luxury vacation and lots of pampering
, in a well-appointed, exquisite resort!
Of all the hotels in Naples Florida, the Ritz Carlton Naples has proven itself, time and time again, by living up to even the most stringent of standards of travelers, expecting perfection, from their luxury vacation!


Return from Ritz Carlton Naples to Naples Florida Hotles

Return from Ritz Carlton Naples to Naples Florida Home Page