Florida Nature Photography:
Capturing the Raw Beauty of the Wild Side of Florida!
Florida nature photography. The mysterious, distinctive and unusual Florida landscape, along with the native wildlife and birds, are subjects for many professional and amateur Florida photographers.
The state of Florida in all it's glory, is an inspiration to photographers and artists alike, who choose to recreate it's beauty with their art!
The extraordinary landscape of Florida, in all it's splendor, is a very diversified one. Florida's landscapes include of course, the beaches, forests, lakes and rivers, inland terrain and the well-known Florida Everglades....fine subjects for photographers!




Besides the numerous animals, birds, reptiles etc., an intriguing subject of the photographers, are

the 50+ animals and 50+ plant species which are endangered, in the state of Florida. Many of the nature photographers in Florida have been able to capture images of these rare finds.
The American alligator, whooping crane, American crocodile, bald eagle, West Indian Manatee, Florida Panther, loggerhead turtle are just a few of the more 'familiar' species which are endangered, in the state of Florida. A great deal of patience, time and skill is required by the photographer to capture photos of these creatures!


Many of the nature photographers of the state have adopted the philosophy, that their work will be an inspiration to others, and will help to educate people, by sharing the natural beauty and charm of Florida, in hope of retaining the glorious Florida landscape and it's wildlife, as well as rebuilding it.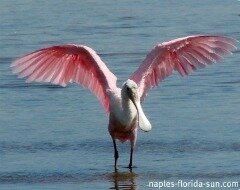 The stellar, brightly coloured photos of the Roseate Spoonbills, Flamingoes, tropical fish, the live coral reef, the big, majestic bald cypress trees, and the landscape at the Corkscrew Swamp, are just a few of my favorites of the Florida photography nature collection.



Clive Butcher - Florida Nature Photography


One of the best known of Florida photographers, is Clive Butcher. He is an accomplished artist, who brings to life, the mysterious and fascinating Everglades! He has been capturing the 'soul' of Florida on film, in black and white, for over 40+ years. His photos capture the real Florida.
Big Cypress, Amelia Island, Apalachicola River, Big Talbot Island, Cayo Costa Island, Estero Island, Florida Bay, the ghost orchid, cigar orchid, Fakahatchee Strand, Lake Okeechobee and Loxahatchee River, are but a few of Clive Butcher's subjects.
His home and one of his galleries, the Big Cypress Gallery, is located about a 45 minute drive from Naples, on Tamiami Trail. A visit to his fascinating gallery, is well worth the drive from Naples, to see his masterpieces on display.
The spectacular photographs of Florida's natural world are a reminder that in today's demanding world, with all it's technology and development, there still exists a beautiful, innocent world, which calls out to us to protect and preserve it, for future generations.

Related Articles