Your Bradenton Beach
Florida Guide!
Bradenton Beach Florida has phenomenally beautiful sunsets! The shoreline is peppered with beautiful seashells, washed up from the blue-green surf of the Gulf of Mexico.


The sand, a white powder, soft, sensuous and inviting, makes walking barefoot, a luxury!

From the view of the clear waters of the sea and the white sands, to the lush green pines that gently shade parts of the beach, Bradenton Beach Florida is a delight to the senses!
Whether you are a couple vacationing on a honeymoon or just a getaway, a group of friends for Florida Spring break or on a family vacation in Florida, Bradenton has all the bases covered!



Location

Bradenton Beach FL is nestled in along the western shores of the Gulf coast of Florida,tucked in between Sarasota and Tampa, right on US Highway 41.
There are over 20+ miles of beaches for boating, fishing, swimming and catching a few rays!
The town of Bradenton is actually seated on the mainland, while the beach is on the southern end of the outer barrier island of Anna Maria, with both fresh and saltwater surrounding the island, overlooking the Tampa Bay area.

Bradenton Beach FL, Holmes Beach and Anna Maria are located on the island. It's a sensational beach vacation spot in Florida, rich with a unique selection of shops, wide variety of dining cuisine, Florida birds and animals, historical sites and many things to see and do.



The Weather

Since Bradenton Beach Florida is located fairly far south, the weather is pleasant and warm for most of the year. The summers can be a bit hot, but the wonderful salty sea breezes which flow from the Gulf can make even a hot, humid day in July, very pleasant. The winters are mostly mile, so summer-time clothing with short sleeves and shorts can be worn year round!
Due to the balmy, sub-tropical year-round weather, sun-seekers from near and far, choose this distinctive spot for south Florida vacations!



Attractions and Fun!

Be sure to visit the Bradenton Beach City Pier. Like many of the other Florida Piers, this pier has a history of damage incurred during Florida hurricance season in the past and has been rebuilt.
There are now restaurants and fishing supply spots at the pier.


Whether you are looking to take in a great meal on the water, go fishing or just enjoy the view, the pier is a great place to hang out!
Visit the Bishop Planetarium, Parker Manatee Aquarium and the South Florida Museum, right in downtown Bradenton, where you can watch a really neat laser and star show and learn a bit about Florida's rich history at the same time!
Perhaps an adventure to the nearby barrier island of Longboat Key is the order of the day! It's home to some wonderful championship golf courses, some five-star restaurants and top-rated resorts. Or, venture out and explore along the coast of this beautiful island.
Another choice in the area, is the laid-back, relaxed vacation spot of Anna Maria Island. If fishing and drinking a cold beer sounds good to you, then you will love this place! Find a nice tiki bar at sunset, settle in, kick back and enjoy the moment!


More to See and Do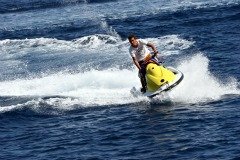 art exhibitions, galleries and museums
kayaking and kayak fishing
mini-golf
parasailing
biking
fishing, tours and charters available
jet-ski rentals
boat rentals
segway tours on groomed island trails
snorkeling and diving
dolphin tours
Mote Aquarium, at nearby Sarasota
Accommodation
Whether you are looking for an affordable hotel room, a beach-side resort, a studio apartment or a vacation rental, there are plenty of accommodations in Bradenton FL, at reasonable rates. There's a broad range of prices to suit everyone, too!
The Harrington House Beachfront BB is a bed and breakfast where you can stay and eat right on the beach without having to leave the property. If you travel with your pets, do check out the Hilton Longboat Key Beachfront Resort.
Check for most current Bradenton Beach hotel deals!
Restaurants

Bradenton Beach Florida also boasts a selection of restaurants, and a nice selection of water-front locations, too.
If laid back and casual is what you're looking for, try the Mar Vista, The Sandbar or The Beachhouse.
If you like to dress up a bit, and are looking for something a little more upscale, try the Beach Bistro.

More Bradenton Beach FL restaurants!


With it's desirable west coast Florida location, it's fine, white powdery sand beaches, plenty of entertainment and activity choices, and the nearby Amelia Island and Sarasota areas, it's easy to see why folks looking for extraordinary Florida beach vacations, choose Bradenton Beach Florida!


Related Articles
Return from Bradenton Beach Florida to Florida Beaches

Return from Bradenton Beach to Naples Florida Home Page