Upper Peninsula, Michigan,U.S.2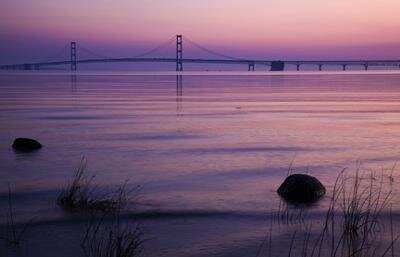 If you ever visit Michigan's Upper Peninsula, take a drive down U.S.2. The highway runs along the shores of Lake Michigan.

There really isn't a name for this beach that I'm aware of, but it begins about 10 miles from St. Ignace and continues along the Lake Michigan shore line for about the next 30 miles.

If you like seclusion, bright yellow-white sand, wind-swept scenery complete with grey-silver trees aged by the weather, pristine blue water and lots of the great outdoors, this is the beach for you!

Unlike many big name beaches, this humble beach is secluded without city people or traffic to mar it's beauty. It's like you are the only person on the shores of Lake Michigan.

There are sand dunes about 30 miles from the beach, which are pretty cool too. I spent a few days there with my family and loved the raw beauty and seclusion.

If you like camping, there are about five different camping areas along this stretch of beach, all maintained by the Michigan DNR.

So if your ever visiting the upper peninsula in Michigan and want seclusion and enjoy the raw beauty of unspoiled beaches, check this beach out. I'm sure you will love it.