Top Hotels in Naples FL
for Families with Kids

Hotels in Naples FL, best for kids! What makes a hotel kid-friendly?
Special kid programs, great swimming pools, good beach access, on-site restaurants, game rooms, spacious suites and equipped kitchens can make a family vacation more enjoyable for everyone!
Fortunately, there's several Naples Fl hotels that are 'family-friendly'!
A hotel that is suitable for children can vary, according to the needs and expectations of the family, and the age of the children.
Families often look for a hotel that is well priced and can at the same time, accommodate their needs.
They search for 'good value'. After all, there's more people in the group, so the cost of the vacation is greater than a vacation for two.
Some families love to take a beach vacation and live in the 'lap of luxury'. There are several resorts in Naples that are both luxurious and family friendly.

You'll find some of the best family resorts in Florida, right here in Naples!
Here are some hotels that have some great perks for vacationing families with their kids!
Be sure to read the reviews posted for the experiences of other families who have stayed at these Naples Florida hotels, and check for current rates and special deals.


Kid Friendly Hotels in Naples Florida


Naples Grande Resort is located near the beach, not far from the Coastland Mall. Free tram service from hotel to beach, or walk the boardwalk to beach. On-site restaurants, breakfast buffet available. Poolside lunch and drink service. Great waterslide and kid's pool with beach entrance (zero entry) and 2 other pools. Tennis for teens. In-house dining. Family rate packages often available. One of the best hotels in Naples FL for kids. 475 Seagate Dr., 1 -888-722-1267 ($$$$$ Luxury) Resort review and N Grande rates.

Ritz Carlton boasts a prime location, right on the shores of Vanderbilt Beach. They have an excellent children's program for full and half day, includes(extra charge). A fantastic game room for 5yr+ with Nintendo, Wii, Sony Playstation (supervised). For teens? Parasailing, paddleboards, body boards, kayaking, paddle boats, hobie cats. Family pool, kid's pool, adult pools. Restaurants, some of them, kid-friendly. Nanny service available. If you're looking for a very luxurious resort as well as one that caters to the needs of the younger crowd, this is certainly a popular choice of hotels in Naples FL. 280 Vanderbilt Beach Road, 239-598-3300.($$$$$ Luxury)
Reviews and current rates at the Ritz Carlton

Park Shore Resort Suites with fully equipped kitchens available. The beach is close by, about a 10 minute drive. If you drive, the resort will reimburse your parking fee. Close to shopping, grocery store and pharmacy in immediate vicinity. Wonderful, relaxed atmosphere. Good value, great comfort for a family. 600 Neapolitan Way, 239-263-2222 ($$$$ Comfortable, modest resort)
Reviews and today's rates for the Park Shore Resort.

Naples Beach Hotel located directly on the shores of the spectacular beaches! A casual, laid-back atmosphere. On-sight restaurants, outdoor patios for dining, spacious room for families, kitchenette in some suites. Free Kid's program, 5-12 yr., free golf for kid's under 18 with accompanying parent. 851 Gulf Shore Blvd . N., 1-800-327-7600 (Casual/Luxury $$$$$)
Up-to-date rates and reviews on this popular family beach resort.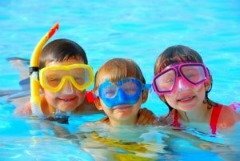 Hampton Inn not located on the beach, approximately 10 minute drive, however there is a pool. Free breakfast buffet for the entire family. Cookies, drinks, tea, coffee usually available in the 'eating area' in the evenings. Good for a short stay with a family. Be sure to book a larger suite, if you have a large family and you're planning on an extended vacation. Well priced, excellent value. 3210 Tamiami Trail N., 239-261-8000 (Economy $$) Reviews of the Hampton Inn & best rates.

Edgewater Beach Hotel Naples prime beach front location. All suite hotel, spacious 1 & 2 bedroom suites with living room ,dining area, fully-equipped kitchen. 2 pools very close to the beach. Lunch and cocktails served poolside. Parking in front of some ground level suites. Walk-out terrace for ground level suites, and nearby access to the pool. Use of pool and waterslide, and other facilities at sister resort, the N Grande Resort. An excellent choice of kid-friendly hotels in Naples FL. (Luxury $$$$$) 1901 Gulfshore Blvd., 239-402-2000
Edgewater reviews and current rates.
Family-Friendly Hotels in Marco Island

Marriott Resort & Golf Club Located on the perfect Marco Island Beaches. Educational kid's program available, 2 playgrounds and mini-golf for kids, accommodation packages with breakfast included for families, nanny service available, beach volleyball, para sailing, games room for teens. 400 South Collier Blvd., Marco Island, 239-394-2511 (Luxury $$$$)
Reviews of the Marriott and up-to-date rates.

Hilton Marco Island Also a waterfront resort, on the beaches of Marco Island. Para sailing, wave runners, hobiecats, kayaks and sail boat rentals. On-sight dining, including casual dining. Babysitting service available. Kid's program for 3-12 yr, teen activities for 12-16 yr(Casual resort $$$$$)600 South Collier Blvd., Marco Island, 1-800-333-3333 Hilton reviews and Rates
Each of the above hotels in Naples FL are all suitable for vacationing families and have several kid-friendly features. They do vary a great deal in price and amenities available.
Some people think that an upscale vacation destination such as Naples, is not suitable for families looking for fun and some relaxation. Nothing could be further from the truth! There are lots of choice of hotels in Naples FL as well as lots of EXTREMELY cool things to do in Naples for kids!

Hotels in Naples FL > All Hotels & Resorts > Home Page