The Naples Beach Hotel:
Premium Hot Spot

The Naples Beach Hotel..... just can't beat it for it's prime beach front location, the Sunset Bar, the convenience of on-site restaurants, a private golf course and spa.... and these are only a handful of the highlights.

I've stayed at the Naples Beach Hotel several times over the years on our vacations in Naples Florida. Here's an overview of my experiences at this popular resort hotel in sunny Naples.
851 Gulf Shore Blvd., Naples Florida 34202
1-888-329-8604

10 Reasons We Love the Naples Beach Hotel

1. Top beach front location. When you vacation in Naples, the BEST place to stay is on the beach... bar none. It is close to many things, including the Coastland Center Mall, a drug store, restaurants, Downtown Naples, including 5th Ave. and 3rd Street South, and is a perfect walking distance to Naples Pier (about 1.25 miles) I'm a beach lover at heart, so personally, I don't mind paying the extra for the water front location.  I personally love to be able to hit the sandy shores running in the early morning for some exercise. My destination is usually the Naples Pier. When I left my suite, I was on the beach in one minute.... nice and close! It feels so good, relaxing in the pool oasis area, surrounded by the swaying palms, and being able to see the Gulf waters at the same time. It's part of the sheer joy of a beach vacation in Naples for me.
2. Clean and comfortable. Rooms and suites at the Naples Beach Hotel have been overhauled and updated.  I like the layout... it's simple and practical and are decorated with a tropical theme.  It's very clean which is a huge factor for me. Never had any bad experiences with cleanliness. I'd recommend a ground floor suite for easy access to the pool and the waterfront and to avoid the elevator crowd.

3. Three Pools. 3 pools to choose from, one being an adult only pool. Lots of deck room, clean and always well-maintained. I love being right close to the beach when at the pool. 
4. Perfect choice for singles, couples or families. This hotel is a good choice for families, couples or singles. It has all of the amenities you'd ever need.

5. Beachfront Bar. The Sunset Beach Bar is the place to hang out and watch the beach action, any time of day. Grab a stool and order up your favorite drink, chill and relax. The ultimate spot to watch the sunset at the end of the day. I especially love the live entertainment on Sunday nights...6-9 p.m. The place really swings! Everyone is welcome to this weekly event. The bar is also open all day and into the evening, too.  Always interesting sights and a great place to people watch on the beach, or from the bar. A perfect place to hang out any time of day. 
6. Reasonably quiet. For such a large resort, I was pleasantly surprised it was so quiet in the evenings. Important for a decent night's rest.  
7. NO RESORT FEES. No extra, annoying hidden charges.
8. No hassle parking. Valet parking available, but the valets weren't constantly hassling me each and every time I entered and left the hotel. This is a problem at some hotels. There are lots of parking spots available at various locations around the resort, which were quite handy for taking in luggage.
9. Nice casual laid-back atmosphere. The atmosphere at the Naples Beach Hotel, is quite relaxed and casual, but yet uniquely sophisticated. I've stayed at many resorts with lots of marble and glorious stone décor. These resorts are really stunning, but seem rather stuffy and a bit uncomfortable, especially for a beachfront location. This resort sports warm wood décor and floors with a pleasant breeze blowing through, and the attractive design, made for a quite delightful and enchanting lobby as well as throughout the resort.
10. No surprise charges.
There were no unknown or incidental charges on my bill upon check out...seems to be a common practice among the Naples Florida hotels.... charges for incidentals. Very important to me.

---
There were some things I did NOT like about this resort
The main building is separate from the Clubhouse, where the gym and spa are located. So if it's raining, be prepared to get wet when returning to your room. 
I wasn't crazy about either the service or the food at any of the eateries on site. Upon more than one occasion, I sat with my group waiting for well over 15 minutes to receive a menu, at which point, we gave up and left.  I found the food to be ok... somewhat mediocre.

Costs - This resort is not a bargain by any stretch of the imagination. I think they feel justified in charging high prices, due to their location, which I completely understands. Just be prepared that it isn't a deal, by any means.

Wi-Fi extra - If you have the need for WiFi, it'll cost you extra.... I would think this could be included in the rates, but unfortunately the owners feel the need to collect some extra cash for this service. ($10/day) Ugh.

---
Naples Beach Hotel Amenities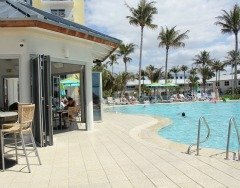 Day Spa – The Spa is in The Clubhouse...located just a stone's throw from the main resort building. You'll find a glorious selection of exquisite spa treatments. Love the Sun Kissed Body Escape which includes a body polish treatment, fresh fruit facial and an application of natural tanning lotion (to perk up my white skin).
Restaurants – HB's on the Gulf, Broadwell's, The Everglades Room, and Sunset Beach Bar are restaurants on the premises. My favorite place to eat is at the patio bar/lunch café overlooking the Gulf of Mexico by the pool...perfect setting and ambiance for a tropical beach holiday. 
Lobby Café - You'll find a neat little store, The Seminole Store, in the lobby area... they have coffee, fresh baked goods, pizza, salads, sandwiches, snack items, drinks, wine, beer, books, newspapers, magazines and assorted other sundries..... a great convenience. Open 6:30 a.m. to midnight. Very handy for kids. Can charge on your room account.
Lobby Bar - There's a nice casual bar in the lobby. Live piano entertainment occasionally. (Open 5pm-11:00pm)
Golf Course. Championship golf course: one of the city's original golf courses. Pro shop, lessons, golf school, and the works at this pro course.  
Tennis. 6 courts @ Mary C. Watkins Tennis Center, on premises. Lessons and clinics available. Pro shop.
Parking. Plenty of parking spaces and valet parking.
Shops. The Golf Shop, The Spa Shop, The Tennis Shop and The Beach Store. Each has a nice display of gift items, sport clothing, and various products. (

Just a little FYI:  I highly recommend the Spa Shop's own brand of shampoo, conditioner and body wash. Awesome products

). 
The Rooms. Guest rooms with 1 or 2 beds, suites with 1 bedroom and efficiency units are available. Large flat screen tv in living room and also in bedroom. Fridge is quite small, microwave, toaster, coffee maker, iron and ironing board, combination safe, very nice large bathroom & shower facilities. Comfy beds, nice bedding. Good for prepping snacks and breakfast, not really suitable for preparing a full meal for a family.
Exercise Facilities. Located in the Clubhouse building. Also yoga classes available on the beach.
Kid's Program. Beach Klub 4 Kids program: FREE. 9am-3pm daily. Lunch & afternoon crafts (extra cost) Friday and Saturday nights, 6:30pm-9pm: dinner and a movie (extra fee). 
Weddings & Receptions. An ideal setting with all the amenities for a Naples beach wedding. Wedding packages available.
---


Overall, my experiences at this resort were positive and I would definitely return again..... good clean resort, conveniences and I can't express how much I loved the central location.

If you're looking for an upscale, but casual, resort on the water in Naples to really take in the fantastic atmosphere of this Southwest Florida vacation destination, the Naples Beach Hotel is a choice you won't regret, especially if it's important that your accommodation is beachfront.

Location, convenience and atmosphere makes this resort a popular choice for many of those vacationers who return to Naples, year after year.

 Kick-back. Relax. And chill.

After all, that's what we do BEST in Naples.
Naples Florida Sun Home > Hotels in Naples