Ft Walton Beach Florida Guide!
Ft Walton Beach Florida. This Florida beach vacation spot, is one of those places that after your first visit, you know you'll be back again!
There's something that is beyond serene and peaceful, when you step onto the the pure white sand of the beaches and look out into the clear waters of the Gulf of Mexico.

The beauty of this Florida beach is absolutely striking with the blending of the blue sky against the emerald green waters and the glorious white sandy beaches!
Absolutely, picture perfect!
This area is well suited for family vacations in Florida, as well as an ideal getaway destination for a romantic holiday!





Location and Weather


Fort Walton Beach Fl is located along the Panhandle of Florida. It's directly off US98, near Destin and Okaloosa Island.
The weather in Fort Walton Beach, is hot in the summer,with the spring and fall weather, being absolutely perfect! Winter temperatures might get down in the 60's, but the air manages to retain that wonderful tropical feel!


Fun Attractions and Things to Do



This beach is laid-back and fairly quiet. A good day would be spent under a cabana right on the beach, right outside the door of your hotel or vacation rental!
There is plenty to do in the area, and many activities and things to do for families and couples.


This beach in Florida really does have it all, for a relaxing and affordable vacation.
One of the must-see spots in the area, is the Gulfarium. Stop by to see all sorts of Gulf of Mexico sea creatures and catch the shows. You can see sharks, dolphins, seals and all sorts of aquariums filled with the smaller sea creatures, native to the area.
Ft Walton Beach is a also great spot for fishing! There's a casino as well as several places to play miniature golf, ride go-carts, or just take a stroll through the shops and cafes on the boardwalk!
Check out the Air Force Armament Museum, Camp Walton School House, Emerald Coast Science Center, Heritage Park & Cultural Center and the Indian Temple Mound Museum.


Accommodations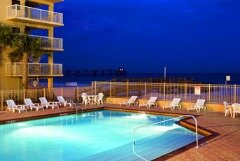 Memorable family vacations in Florida, begin with top-notch accommodations!
Ft Walton Beach Florida offers a full range of choices from affordable hotels to high end condos right on the beach, and all price ranges in between. And don't think you will have to pay top dollar to stay right on the beach.
There are package deals that will accommodate just about every budget from affording the least expensive to high end luxury.

In the alternative, perhaps you'd rather check out these




Restaurants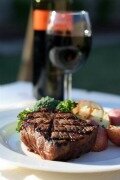 Whatever type of food you like to eat, you'll be sure to find it in Fort Walton Beach or nearby Destin.
They have everything from the popular spots like Olive Garden and Red Lobster to the dining spots that are unique to the area like the Cafe Italia, Magnolia Grill, Staff Restaurant, and Yamato.
Destin and Okaloosa Island have even more dining spots to choose from. Be sure to try some of the special Gulf seafood, for a local flavor.
Browse through the list of restaurants in Ft Walton Beach!
For fun nightlife spots, check out Barlety's Lounge & Nightclub, Classic Cue Billiard, Coasters, El Vila's, Starcade Billiard, the Block and The Paper Moon.



Related Articles
WHAT'S YOUR
Favorite Florida Beach?
NOW it's YOUR turn! Tell us about the Florida Beach where you love to:

Play, soak up the sun, eat, relax and just kick-back!
Tell us what's so special about your favorite Florida beach!

Or why you love this beach.

Or tell a story about something cool that happened at this Florida beach!

You'll create your very own Web Page!
Locals & Visitor Favorite Florida Beaches!
Click below for other Florida Beach suggestions!
Fort Walton Beach, Florida. Not rated yet
Fort Walton Beach, Florida. I've always felt that I have an interwoven connection with beaches. I always prefer to be very close with Mother Nature. …
Return from Ft Walton Beach Florida to Florida Beaches

Return from Ft Walton Beach Florida to Naples Florida Home Page`