Top Hotels in Naples Florida for Weddings
What are the best venues and top hotels in Naples Florida to host your destination wedding?
There are several hotels/resorts in the area which are suitable for hosting a dreamy, beach-themed wedding. Each of these resorts has several notable features which make them perfect choices for your very special day!

i) On-site dining facilities
ii)Variety of suites for wedding party and guests
iii)Spa, or will make spa visit arrangements
iv) Variety of wedding packages
v) Located on the beach in Naples, or very close-by.

Naples Florida Romantic Resorts for Weddings

LaPlaya Beach & Golf Resort
This sophisticated, highly rated, beachfront resort is truly the epitome of 'romance'. Located on the pristine white sandy shores of the Gulf of Mexico, Laplaya has the ideal setting for couples who desire an unforgettable beach wedding. There are a variety of ballrooms to host both large and small numbers of guests for receptions, as well extraordinary outdoor spaces for hosting a wedding on the and receptions both formal and informal. Spa.
9891 Gulf Shore Drive, wedding inquiries 239-449-1175

---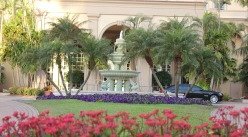 The Ritz-Carlton, Naples
Not only is the Ritz Carlton, one of the top hotels in Naples Florida, it's known world wide. Upscale and extraordinary best describes this Naples beach resort. If you're looking for a very luxurious, lavish event, where cost isn't a factor, then this venue is for you! A most stunning and enchanting setting on the beach for a wedding, along with the glitz and glam of the resort itself, make this resort the perfect choice for a fairy-tale wedding, fit for a princess and her prince! Wedding packages and advisor available. Spa on-site.
280 Vanderbilt Beach Rd., 239-598-3300
---

The Bellasera is a small, intimate, ever-so romantic hotel with Mediterranean themed architecture. This venue features a fine-tuned 'wedding catering team', to meet the needs and tend to the fine details of a destination wedding, to make the event perfect to the letter. Choose either indoor or outdoor facilities for ceremonies, or the resort will arrange transportation for a beach wedding, complimentary of course for the bride and groom.
221 Ninth St. South, for weddings 1-800-548-5284
---

Hilton Naples
This hotel caters to weddings that range from small, intimate and informal, to larger, more lavish formal ceremonies. Located just a few minutes from the beaches in Naples. The Hilton Hotel Naples offers a variety of packages for weddings, and has a wedding planner on staff. Will assist with spa arrangements.
5111 Tamiami Trail N., 239-430-4900
---

A stellar setting on the Gulf, the chic Edgewater boasts a wonderful, relaxed 'vibe', custom made for a beach wedding. The resort's wedding co-ordinator is available to tend to the little details of your special day. Exquisite and casual , the Edgewater is definitely one of the top hotels in Naples Florida for hosting a beach wedding, with it's sultry 'romantic' ambiance.
1901 Gulf Shore Blvd, 1-888-564-1308
---

Naples Grande Beach Resort
Formerly the Naples Grande, this venue is wonderfully appointed for hosting a tropical beach wedding. The many pools and outdoor terraces make for spacious areas, to host receptions and brunches. They offer the services of an in-house wedding planner for orchestrating a wedding customized for your big day.
475 Seagate Dr., 1-888-722-1267
---

A Fifth Avenue, Downtown location, close to the Naples beaches, this charming, boutique hotel in Naples, has been named one of the 'finest sites in Florida for an outdoor wedding', at the Rooftop Courtyard and the 5th Avenue Terrace. Gorgeous suites, with 'juliet-style balconies' and also Jacuzzi tub suites available, too. There are a number of ballrooms and delightful outdoor terraces for your wedding ceremony, brunches or receptions. Spa at the Inn. The Inn is truly one of the 'top hotels in Naples Florida' for a wedding!
699 Fifth Ave., S, inquiries for weddings, 239-280-2705
---

If you are getting married in this beautiful beach town, and are having a private ceremony, you may not require all of the amenities and services offered by the hotels on this page. If you are looking for special accommodation to make your destination wedding, take a look at the luxury, romantic beach resorts we recommend.
Top Hotels in Naples Florida > Beach Weddings > Home Page