Naples Weather Facts
for Planning Your
Naples FL Vacation!
Planning for your Florida beach vacation in Naples FL? Get the scoop on Naples weather!
If you're planning on a Naples vacation, you'll want to know the year round weather. It will help when choosing a vacation time, what to pack and what to expect.
Need to know the best months for , golfing in Naples?
Planning to do some camping or boating in Naples?
Looking for the months with the absolute best beach weather in Naples Florida?
Here are the answers to the most frequently asked questions about weather in Naples Fl!



What is the weather like in Naples FL?

The weather in Naples Florida, located in Southwest Florida, has a very pleasant sub-tropical climate year-round. The weather around the entire world is changing as is the weather in Florida, over the past number of years.

But generally speaking, the winters in Naples are warm and dry, with average temperature in the day, . The Naples weather in the summer is 'hot' and sometimes humid, with daytime temperatures ranging from 83-90F. Overall, Naples weather is great, with an average annual temperature around 77F.

Is there a lot of rain in Naples Florida?
Naples receives about 50" of rainfall each year. Over half of the rainfall occurs from June to September, during the warmer months of the year. The rest of the year is pretty dry, with the occasional brief rain storm. Most rain storms in Naples last only part of the day.
Are the Gulf of Mexico water temperatures warm?
Since the weather in Naples is warm year round, the water temperatures are as well. The water is about 65-72F in the winter, which is fairly warm. In the summer, the water temperatures warm up considerably and are often recorded at well over 80F! Suitable for Naples beach activities year round.

How many sunshine hours in Naples?
Naples weather is pleasant because it boasts a daily average of 7-9 hours of sunshine, from November – January. From February to October, sunshine hours increase from about 8 to 10 hours per day. Overall, 70%+ daylight hours in Naples are sunny days. Awesome!
What's the UV index for Naples?
Of course, the UV index varies from day to day, and the daily weather forecast should be checked accordingly. From October to February, readings are in the 5 to 8 range, and shoot up often to highs over 10+ during the rest of the year. Diligent use of sunscreen in this climate is an absolute must.

What's the best month for a Naples Florida vacation?

This can be a difficult question to answer, in order to satisfy everyone.
People have very different expectations for 'vacation' weather. It depends on the activities you're interested in. Are you a golfer? Looking for perfect warm weather for water sports and tanning?

Some people would be very unhappy with temperatures at any given time below 80F. Others would be contented with temperatures hovering in the low 70's.
The best time to vacation in Naples Florida, is February, March and April. Average temperatures are warm and pleasant, and the rainfall is minimal. Great weather for activities on the Naples beaches, golfing in Naples or any of the other fantastic outdoor activities in Naples.


Are there hurricanes in Naples?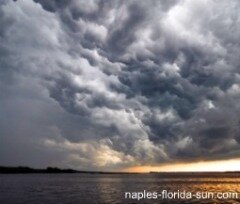 Yes. Hurricanes can occur in this area. June to November is hurricane season in Naples Florida. But remember, hurricanes are unpredictable and can occur anytime.
However, this should never stop someone from vacationing in this beautiful tropical paradise. Would you stop traveling to California, just in case there was an earthquake during your visit? Or Japan, because of a tsunami?
There are various types of weather threats all over the world, and that shouldn't stop someone who loves to travel, from enjoying a vacation.


When is hurricane season in Naples?
Southwest Florida weather is most likely to be optimum for a hurricane in the months of June to November. On the hurricane vulnerability rankings, Naples ranks fairly low. The structures and buildings in this area are well built and solid, thanks to the strict building codes, set in place to reduce the potential damage from foul weather.
Hurricane Safety Tips...just in case!



Southwest Florida Weather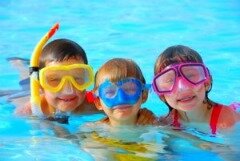 The weather in Southwest Florida, is much the same as the Naples weather.
It can best be described as sunny and warm and the Gulf waters are warm too.....warm, sultry breezes everywhere.
The temperatures vary slightly from city to city in the Southwest FL area, but average annual daytime temperature is around 77F. Perfect beach and golfing weather!

Where Would You Like to Go Next?
Return to Top

Return Collier County Florida

Return from Naples Weather to Naples Florida Home Page