The Naples Sports Bars!
There's lots of fantastic Naples Sports Bars! There's no better way to enjoy the 'big game', than to relax and kick back with a cold draft and burger!
What makes for a great sports bar? In order for a sports bar to be,
well 'a sports bar', there's a few requirements!

Beer. Bottled. Draft. Doesn't matter. No beer? It's NOT a sports bar!
Food. Although it's not always GREAT food. If the food's good, consider it a bonus!
T.V.'s. And LOTS of 'em! The more the merrier. In fact, it's best that there's no wall space showing!


Music. When you're tired of watching the game or conversation, there's music to divert your attention!
Atmosphere. Must be casual. No suits, ties and stilettos please. Shorts, sandals and ball caps are the dress code!
Stay safe! Don't drink and drive.
Put your favorite cab company on speed dial on your cell.
Arkway Taxi, 239-777-0777
Freedom Taxi, 239-465-8681
Naples Taxi, 239-435-0000
Here's the Naples Florida collection of sports bars. Make the rounds, check them out. Find your favorite 'watering hole'!
See which one really 'rings your bell'!


If 'bar food' just doesn't cut it for dinner, check out these restaurants in Naples!

Sports Bars in Naples!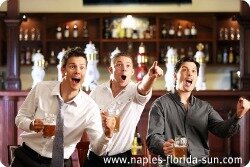 Big Al's Sportsbar Naples
T.V.'s everywhere, great food, wide choice of draft beer, not kid-friendly
8004 Trail Blvd., Naples
239-591-0733

Bokamper's Sports Bar & Grill
70 plasma HD TV's, daily drink specials game room for kids
8990 Fontana Del Dol Way, Naples
239-431-7611

Boston Beer Garden
Good happy hour deals, good food, chain bar, one of THE best places to watch sports in Naples, a popular Naples sports bar
2396 Immokalee Road, Naples
239-596-2337

Foxboro Sports Tavern
Good value pub food, lots of tv's
4420 Thomasson Drive, Naples
239-530-2337

Freddie Rebel's Sports Bar
Good food esp. the wings and pizza, lots of tv's
5310 Shirley St., Naples
239-597-3333

Harold's Place
'Old Florida' style atmosphere, tiki bar, great food & supreme burgers, Happy Hour deals
2555 Tamiami Trail N., Naples
239-206-8626


Lucky's@951
Good food, live bands, lots of hi-def tv's
7550 Mission Hills Dr., Naples
239-354-4430

Miller Ale House
Big place, inside and outside seating
6320 Hollywood Blvd., Naples
239-591-0125
Mulligans Sports Grille
Happy Hour deals Mon-Fri 3-7pm, 27 flat screens, brick oven pizza, great burgers
2041 Tamiami Trail N., Naples
239-261-1001

Pelican Larry's Raw Bar & Grill
Outside seating, pool tables, darts
1046 Pine Ridge Rd., Naples
239-649-0800

Sam Sneads Tavern
THE place to be if you love golf, great food, nice drinks available other than draft!
2460 Vanderbilt Beach Rd., Naples
239-592-9999

Stevie Tomato's
Extensive menu, good food, family friendly, good happy hour deals
25271 Chamber of Commerce Dr., Bonita Springs
239-495-0154
Lots of fun. Lots of sports. Lots of good times.

Enjoy a sports bar in Naples Florida!
Where would you like to go now?
Return to Top

Return from Naples Sports Bars to Things to do in Naples

Return from Naples Sports Bars to Naples Florida Home Page