J.N. Ding Darling National Wildlife Refuge, Sanibel Island, Florida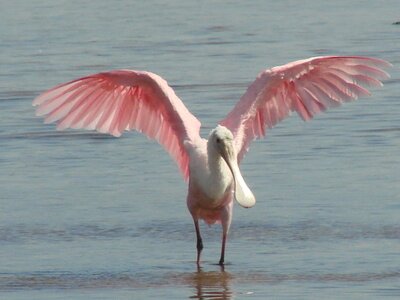 If you find yourself in Southwest Florida, I highly recommend a visit to the J.N. Ding Darling National Wildlife Refuge.

Located on Sanibel Island, a subtropical barrier island, located in the Gulf of Mexico not far from Fort Myers Beach and just north of Naples Florida, this wildlife refuge is not to be missed.

Part of the largest mangrove ecosystem in the United States, this wildlife refuge is well known for its migratory bird populations.

I visited this refuge with my daughter a few years ago, when she was about ten years old. We were in the area and it sounded like it might be fun. Neither of us are particularly scientific nor budding naturalists, but I thought this place might be both educational and entertaining. I was not expecting our visit to be particularly memorable.

We toured the education center and we were pleasantly surprised. I hadn't anticipated this much information. The staff was very knowledgeable and the exhibits were fascinating. We decided that we would take the wildlife drive. Although the information that we were provided recommended stopping points to view animals, birds, and other wildlife, I must confess that we wasn't sure that we would see anything at all.

Boy, was I wrong. We saw many different types of animals and birds! The highlight of the day, however, was when we found ourselves just a few feet away from a couple of alligators! I could not believe that actual, living alligators were right there, near where we were standing! In fact, I quickly decided that maybe we were standing too close! The whole experience was thrilling for both of us because it enabled us to actually experience Florida wildlife in its natural habitat as opposed to in a zoo or other more organized environment.

We have since told many people about our great adventure at this awesome eco-destination in Florida, at the J.N. Ding Darling National Wildlife Refuge in Sanibel Island, Florida and we are looking forward to a return visit some day.