A Naples Beach at Sunset
by Janeen
(Michigan, U.S.)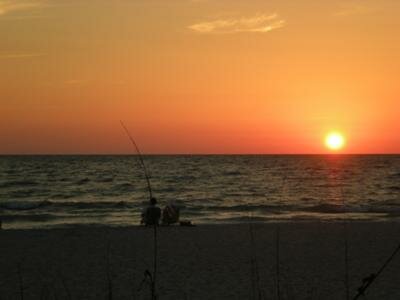 Naples Beach at Sunset!
You have to spend a few nights in Naples, to catch one of the great sunsets at a Naples beach. Every time you visit the beach, you get a different sunset.

We love to visit every year, during the last week of April/first week of May. The weather at this time of year is just delightful!

I think that beach walks in the early morning and in the evening when the sun sets, is a favorite sport in Naples! It was surely my favorite
thing to do in Naples. I couldn't believe how many people were out so early in the morning. Young, old, running, walking, taking pictures, with i-pods, radio, barefoot.... it was pretty neat to watch.

I found it really fascinating that almost everyone I saw wasn't talking at all. Everyone seemed to be just enjoying the sunrise and the new day dawning over Naples, and especially listening to the hypnotic 'roll of the surf', as it gently washed in on the shores of the beach, bringing with it, lots of tiny shells and sea creatures!

It was lots of fun gathering up shells as we went for our daily walks. I grabbed a mesh bag at the grocery store, as they are best for shell gathering, as they don't hold moisture, and the little shells don't get too 'fragrant', when back at the hotel room!

I guess because Naples is on the west coast of Florida, the sunsets are so amazing. We watched faithfully for the phenomena called the 'green flash' and actually saw it on our last night in Naples last year!

The colours of the sunsets are spectacular. I was able to capture several of the sunsets on film and also took a brief video, from the Pier that was sensational! I've taken a few of my best sunset shots, enlarged them and have displayed them in my office at home, to remind me of my own little paradise in Naples!



Related Articles